Editor Victoria Galligan stayed in a Roomzzz Aparthotel in London to check out how the chain caters for family holidays.
If, like me, you are a little wary about travelling in big cities with small children, then Roomzzz Aparthotels are made for you. As a mum of two small children, the thought of them being cooped up in four walls for the weekend was not appealing. But Roomzzz Aparthotels claimed to offer the ideal accommodation for family holidays so, with a family room booked, we headed off from our home up North and were at London Euston in little over two hours.
The Roomzzz Aparthotel in Stratford was a Tube ride across the city, but an ideal base for families – as you head out of the underground station the Westfield shopping centre is to your right, and facing is a smaller mall, Stratford Shopping Centre, complete with Sainsbury's, Lidl and MacDonald's among many more shops and eateries – perfect for hungry families arriving for their stay.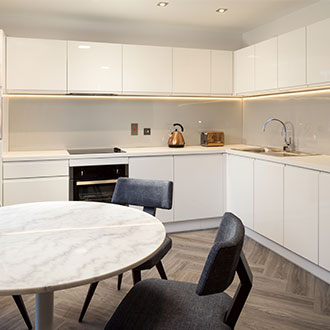 As well as plenty of pubs, bars and restaurants, Stratford is home to the Queen Elizabeth Olympic Park. Built in 2012, there's no doubt the park helped regenerate the area and it's now a favourite among commuters in the week and sightseers at weekends. 
A 15-minute walk from the Tube station lies the Roomzzz Aparthotel. Upon checking in, we were introduced to the Grab & Go breakfast bar. Instead of the usual buffet-style cooked breakfasts, your booking includes a help-yourself continental breakfast which you can eat in your apartment or in the cafe-style seating area on the ground floor. The choices include fresh fruit, yoghurt, pastries, porridge, juice cartons and unlimited hot drinks – the drinks can be used at any time too, so you're never far away from a good coffee.
The Roomzzz Stratford also offers a shop area so if you're looking for a quick meal to prepare in your kitchen area, then you don't even have to leave the building.
Plenty of space for family holidays
Our apartment consisted of a main kitchen/lounge area, where a large flatscreen TV provided the entertainment and a sofa converted into a double bed for the evening. Sturdy enough to hold adults too, this was a great space saver. A balcony area off the main room provided city views and a table and chairs on which to enjoy a summer meal al fresco.
The kitchen area was well-equipped with everything you'd need for a break – even a dishwasher and washing machine. You can comfortably stay here without stressing about running out of clothes or arguing over whose turn it is to wash up – as tends to happen on our family holidays, at any rate!
A double bedroom, also with flatscreen TV, and family bathroom complete the set-up. And as we stayed at the height of summer, I have to mention the air conditioning – an absolute lifesaver at night especially!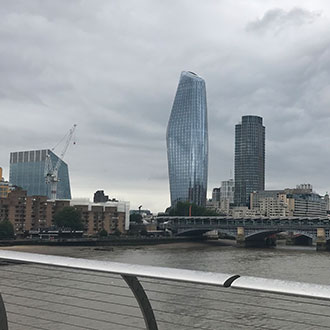 What struck me most about the Roomzzz Aparthotel, as well as the high quality of fixtures and fittings, was the peaceful nature of our stay. The building is planned so that there are no more than a few rooms clustered together – you don't get people traipsing up and down a long corridor at night, disturbing your sleep. In fact, I was hard pushed to hear any human noise after we retired – the bed was so comfy that I slept like a baby, which helped! 
Lots to see and do
If you haven't explored London with the kids then I would encourage you to do so – there are an absolute plethora of attractions in the capital designed for families and the Tube means you're never more than a short ride away from most of them.
We opted for Madame Tussauds – which has been exhibiting waxworks since 1835. With a fast-track pass, we skipped the huge queue and went straight to the VIP catwalk area, where your photo is taken before you head up to the lift and out into a hall full of Hollywood stars: Brad Pitt, Tom Cruise, Emma Watson, you name it – all the stars are under one roof. I cosied up to Morgan Freeman – who didn't look too impressed!
As well as the celebrities there is an all-too-realistic Alien section (for ages 15 and over only!) which, quite frankly, scared the pant off me. And superheroes, pop stars and royals add to the mix in room after room of waxwork glory – it really is a tourist attraction not to be missed.
Back at Stratford's Olympic Park, there is plenty to do for families. If you're brave enough to ride the slide, the Arcelormittal Orbit tower is 178m high and will have you speeding past the London skyline in a 40-second spiral ride. Children must be 8 years old and 1.3m tall to ride. There are also playgrounds to keep the kids busy and the Discover - Children's Story Centre offers a magical literary journey with crafts, exhibitions and soft play areas alongside storytelling fun. 
Eating and drinking
For a change of scenery, we headed to Covent Garden in the evening for a fantastic meal at French restaurant Balthazar. The seafood bar is a sight to behold and I opted for salmon gravlax followed by lobster spaghetti. The food here is on another level – lovingly created and served in elegant surroundings – the restaurant was busy and the hum of chatter across the tables filled the room. The service is also top class and the waiters couldn't be more accommodating. 
There are so many different types of eateries in and around Covent Garden, you're bound to find a menu which everyone can enjoy. And if you fancy a takeaway or preparing a meal yourself, the Roomzzz apartment has everything you need – and remember, you won't have to wash up!
Book family holidays in a range of locations at roomzzz.com