A Staffordshire farm is calling on people to face their fears as it reveals its 13th new scare attraction which organisers say is made from the stuff of nightmares.
Screamfest, located at the National Forest Adventure Farm, near Burton upon Trent, will unveil a new nightmare themed scare attraction called Insomnia when it opens on Thursday 11th October.
Insomnia will be the farm's biggest indoor scare maze yet and transport you into the worst kind of nightmare; one you can't escape. Based around the real fear that nightmares can create, the attraction is set to run alongside Screamfest favourites Demonica, Freak Out, Love Hurts and maize maze-based Dia de los Muertos.
Ivor Robinson, one of the two brothers who own National Forest Adventure Farm, said: "People can expect frights and scares with the added twist of the new Insomnia attraction that gets deep into the mind-set of your worst nightmare and won't let you escape. Our creative team works tirelessly every year to create the best experiences that hijack the imagination and thrill scare fans. Everyone at some point in their life has suffered with nightmares so Insomnia will definitely be one of our most chilling scares to date."
In another first, Screamfest organisers are challenging scare fans to nominate people to take part in its nightmarish one night only Facebook Live challenge; 'Cage Fright Live' prior to the launch of Screamfest in early October.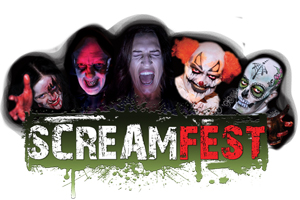 The launch of Cage Fright Live marks the countdown to the opening of this year's popular Screamfest attraction which sees the farm completely transformed at night between 11th October and 3rd November for the ultimate immersive adult scare attraction.
"We're always excited to do something new and our Facebook Live challenge Cage Fright Live will be the ultimate test for scare fans," Ivor said. "It takes the immersive scare attraction to a new level and allows people to nominate friends or family to take on a nightmarish experience alone in a dark room."
Screamfest is in its 8th year and takes inspiration from some of America's top scare attractions. The event attracts over 18,000 visitors each year looking for the ultimate fright night experience filled with scare attractions, live extreme entertainers and street theater shows. Not for the faint hearted the night time attraction, which starts at 7pm on selected dates through October and November, is designed for ages 12 and over with youngsters under 14 needing to be accompanied by an adult.