We are known as the Friendly Line in the Cotswolds. This provides a unique opportunity to travel behind both steam and diesel locomotives and also the diesel railcar (DMU) which help recreate train travel as it was in the 1950's and 1960's. 
You pass through the beautiful Cotswolds scenery; to the west the Vale of Evesham, and on clear days you can see Tewkesbury Abbey, Gloucester Cathedral, the Malverns and Wales. To the east the Cotswolds climb steeply uphill. 
Our stations have modern facilities with Broadway, Toddington and Winchcombe stations providing refreshments. Hot food at Toddington and a delightful 1950's cafe at Winchcombe and a Tea room at Broadway. On-train catering includes our legendary bacon baps! 
Hayles Abbey Halt has been rebuilt by our Heritage group and is only a 10 minute walk from the ruins of Hailes Abbey. For some unknown reason the Great Western railway spelt it Hayles we have down the same to maintain its authenticity.
Large Free car parks are at Toddington and Cheltenham Racecourse and a small one at Winchcombe.  All are suitable for disabled passengers and they are also catered for in specially adapted carriages.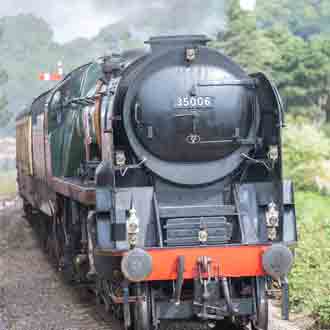 Broadway Station was removed completely by BR when it was closed over 50 years ago. It has since been rebuilt by our volunteers. It was re-opened at Easter in 2018. There is no visitor parking at Broadway station but there is a pay and display car park on the opposite side of the road to Broadway station A discount against the total cost of your rail travel is given if you purchase an all day parking ticket.
Many Special events are held for example: Easter Eggspress, Wartime in the Cotswolds, Steam and Diesel Galas, Classic Car Events, Bus Rally, Steam and Real Ale, a Food and Drink Fayre, and Santa Specials.
Our Fish & Chip Specials are extremely popular so book early to travel on one of these because they always sell out!
Rover tickets give you unlimited travel all day and offer very good value for money. Tickets are available for journeys between specific stations.
Our railway is run by qualified volunteers who will be very pleased to see you and help you have a great day out.
Trains run throughout the season – full details and prices are on our website www.gwsr.com or call us on 01242 621405.