A world premiere and a diverse programme of drama make up Coastival's theatre and performance line-up next month. Coastival takes place at various venues in Scarborough from 22nd to 24th February.
Organisers are delighted that acclaimed performer Belle Jones has chosen Coastival for the premiere of High Land.
Focusing on how what human beings are capable of under extreme pressure, High Land will be performed at Woodend Gallery on Friday 22nd and Saturday 23rd February, at 8pm.
Coastival regulars the Animated Objects Theatre Company will be calling on the audience to determine the outcome of their production.
The Judgement will take place at Scarborough's Aquarium Top Roundabout on the evening of Friday 22nd February and during the day on Saturday 23rd February. As the action unfolds, audience decisions will determine the path the performance takes.
In Scarborough town centre, shoppers will be stopped in their tracks by Avanti Display performing Full Circle, a piece of comic street theatre, involving dozens of steel buckets, on the afternoons of Saturday 23rd and Sunday 24th February, at 12noon and 3pm, outside Next on Westborough.
Popular local players the Beach Hut Theatre Company will be performing a light-hearted look at love, money and weddings withLove, When it's Brass at the Stephen Joseph Theatre on Friday 22nd February at 7.45pm.
Beach Hut Theatre Company are also performing a show for all ages, The Wild Zone, where the audience will be encouraged to assist with some code cracking and help scientists save the planet. The Wild Zone is on at the Spa Regency Room on Saturday 23rd and Sunday 24th February at 11am, 12.30pm, 2pm and 3.30pm.
Coastival newcomers Schwa take poems and set them to music. In their piece A Lark, they will be exploring the natural world and the mystery of birds at 2.30pm on Sunday 24th February at Woodend.
Time travelling magic duo Morgan and West present Parlour Tricks - fun and magic for audiences young and old, at the Stephen Joseph Theatre on Saturday 23rd February at 7.45pm.
Morgan and West are also performing their Utterly Spiffing Spectacular Magic Show for children, at the Stephen Joseph Theatre on Saturday 23rd February at 2.45pm.
Themes of displacement and homelessness will be explored in Remnants, a powerful presentation featuring soundscape and movement, performed by the Turas Theatre Collective at 10.30am and 12.30pm on Sunday 24th February at Scarborough Spa Sun Court.
Coastival director Kate Beard said: "We are really proud of the theatre and performances we have on offer at Coastival this year, boasting a world premiere and a tremendous mix of comedy and thought-provoking drama."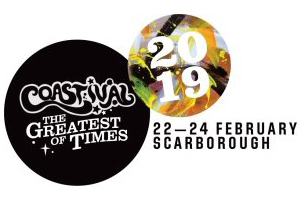 Elsewhere during Coastival there will be music, art, open studios, installations and family activities.
Coastival is produced by Create Arts Development and supported by Arts Council England along with the Foyle Foundation, CU Scarborough, Scarborough Spa, Yorkshire Film Archive and Scarborough Borough Council.
Tickets and details of the full Coastival programme are available at www.coastival.com