City and county are home to a wide range of activities from canal boating and kayaking to fresh water diving
Leicester and Leicestershire may be landlocked but they have plenty of water to offer – eight rivers, 70 miles of waterways, and a 36 metre deep freshwater cove where you'll discover the largest inland wreck in the UK.
Visit Leicester has compiled a list of some of the highlights of the many water-based destinations and activities that can help visitors to relax, explore or get energized.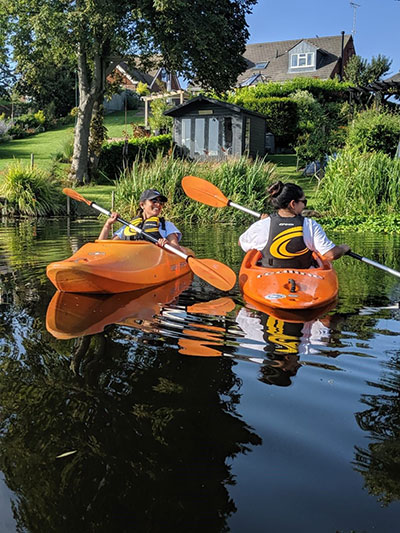 Once an important route for industrial barges, the city and county's canals now provide the perfect place for canal boating, kayaking, paddleboarding or hydrobiking.
Leicester Outdoor Pursuits Centre offers several water-based activities including bell boating, canoeing, kata kanuing (a cross between bell boating and canoeing), kayaking, raft building and paddleboarding. Visit the centre to learn a new skill, try a team building challenge or just enjoy some time on the water.
Let's Get Lost also offers a range of experiences on the canal. Book a Picnic and Paddle to spend time on the waterways on a kayak or paddleboard before a pitstop in a secluded spot with a delicious picnic. Or try Paddle to the Pub along the River Soar before stopping off for refreshments at one of the local riverside pubs. You could even make a short break of it and book a Kayak and Camp experience where you can immerse yourself in nature and sleep under the stars.
For those who love being by the water but not on it, Leicester and Leicestershire has miles of tranquil towpaths for a leisurely walk, run or cycle. Hire a bike from Hicks Lodge Cycle Hire or Rutland Cycles and see where the canal-side routes take you.
If canals and locks are your thing, Foxton Locks is a grade II listed site and home to the longest, steepest staircase flight of locks in Britain. It's a great place to visit for a walk, fishing, pond dipping, a lunch at a canalside pub or café or a spot of gongoozling – watching the narrowboats make their way through the locks.
For those who enjoy beautiful scenery, the Grand Union Canal in Wistow was recently voted as the most scenic waterside setting in a recent survey by the Canal and River Trust.
If watching the narrowboats isn't enough for you, you can hire your own and take to the water to watch the world go by. Canal boat hire is available from Union Wharf, Market Harborough; Pillings Lock Marina, Quorn; or Bosworth Marina, Market Bosworth.
For a unique combination of both seclusion and adventure, stay aboard a five star self-cruise boat with Boutique Narrowboats. Meander the county's waterways, through stunning countryside and woodland, savouring glimpses of pastoral agriculture beyond, before bedding down in your luxury boat.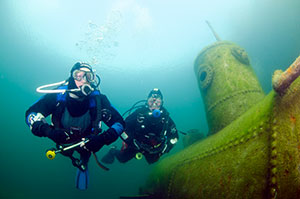 For something a little more adventurous, pay a visit to Stoney Cove – an extraordinary sub-aquatic adventure park and home of the National Diving Centre. Natural freshwater springs provide the clear waters that enable divers to explore its incredible underwater world. Amongst its many 'wrecks' waiting to be discovered are Stanegarth, the UK's largest inland shipwreck, a Nautilus submarine, tugboat Defiant and the trawler Belinda.
Or enjoy an exhilarating outdoor swimming experience in open water at Stanton Lakes in Stoney Stanton or RaceHub in Melton. Open to all swimmers, Stanton Lakes is ideal for those working towards a triathlon, improving their times or preparing for a big swim challenge in the future, and classes are available for novice open water swimmers. Race Hub is a fantastic open water swimming venue used by British Triathlon, local triathlon clubs and swimmers. All swimmers are welcome and beginner courses are available for those new to open water swimming.
Discover over 40 adrenaline, sporting and active family escapes as part of a Fitcation short break that enables visitors to Leicester and Leicestershire to experience a wide range of thrill-seeking challenges and adventure activities, as well as learning a new sport or enjoying active family fun.
For more information on places to see, things to do and where to stay in Leicester and Leicestershire, visit www.visitleicester.info
Leicester and Leicestershire's major 'Uncover the Story' tourism campaign is promoting the city and county as a fascinating UK destination for national and international visitors. Uncover the Story uses a range of intriguing stories to promote the city and county as a compelling and distinctive destination to visitors. For more details on the campaign and the unique stories from the Leicester and Leicestershire tourism industry, visit www.visitleicester.info/uncoverthestory.