Launceston is a picturesque market town built on the side of a hill. The town is 42 miles west of Exeter and 26 miles north of Plymouth. It is located a mile from the River Tamar which forms the divide of Devon and Cornwall. Launceston is overshadowed by a Norman castle an ancient and dramatic landmark built in 1070 by the half-brother of William the conqueror. The town was featured extensively in Daphne du Maurier's celebrated novel Jamaica Inn. Launceston is associated with the famous Cornish Fairing biscuits, the recipe for which is said to have originated at the 'maid hiring' fair which was held the week after Christmas in Launceston.
The track bed of the LSR once formed part of the journey of the Atlantic Coast Express or 'ACE' – as it was popularly referred to – on its celebrated run from London Waterloo to holiday resorts in northern Cornwall via Salisbury and Exeter. Following closure of the North Cornwall line in October 1966 the ACE faded into history. One other railway served Launceston - the former Great Western 7'0" gauge branch from Plymouth. This line was converted to standard gauge in May 1892 and finally closed in 1962. Ostensibly Launceston had lost its railways until a 2 ½ mile section connecting Launceston with Newmills was re-laid to a 2'0" gauge. The pioneer of this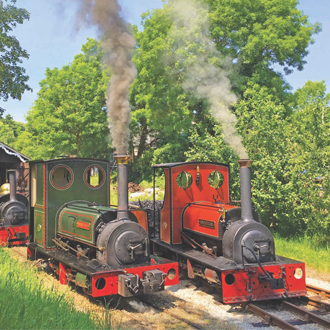 imaginative scheme was Nigel Bowman who had purchased a 2'0" gauge steam locomotive named 'Lilian' from the Penrhyn Slate Quarry in North Wales. He considered Launceston an excellent place to run it, and received full backing from the local council who, quite rightly, saw the railway as an excellent attraction congruous with the history of the town.
All maintenance is carried out in-house, and the railway's workshops are located at Launceston station, along with an engineering museum with a range of items associated with the days when British engineering was the envy of the world. The museum and associated workshop buildings were originally used by the Launceston Gas Company. The station site was once the location of an Augustinian Priory long forgotten since being destroyed by Henry VIII in 1539 and narrow gauge engines now run over track where monks once prayed. The Launceston area is rich in wildlife and visitors may see – or hear – herons, woodpeckers and buzzards whilst the railway banks are known to be the home of stoats, badgers, lizards and grass snakes.