Europe's first ever pop-up Shakespearean Theatre – SHAKESPEARE'S ROSE THEATRE – sets down for a summer residency at Blenheim Palace in Oxfordshire from 8 July – 7 September 2019, following its inaugural and hugely successful season in York in 2018.
SHAKESPEARE'S ROSE THEATRE - a 13-sided Elizabethan-style playhouse, complete with an Elizabethan village - will be constructed over a three week period adjacent to the 18th century Palace.  It will enjoy one of the finest views in England, and coincidentally, will be just yards from the historic Shakespeare's Way, which bisects the Blenheim Palace Estate. 
The four plays being brought to life in this first summer season at 'Britain's Greatest Palace' offer something for everyone.  Specially chosen, they will be Macbeth, Romeo & Juliet, Richard III and A Midsummer Night's Dream.
The Shakespearean theatre will be constructed using state-of-the-art scaffolding technology, corrugated iron and timber.  Inspired by the famous London Rose Playhouse built in 1587, 12 years prior to The Globe, SHAKESPEARE'S ROSE THEATRE will house an audience of 900, with 560 seated on three tiered balconies around an open-roofed courtyard with standing room for 340 'groundlings'.
The theatre will be located within a Shakespearean village, bringing an authentic Elizabethan ambience and theatricality to the event, including:
·         'wagon' performances of Elizabethan-style entertainment, including comic mini-plays, speeches and mediaeval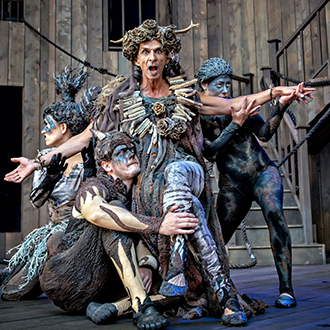 musicians
·         the best Oxfordshire food and drinks, housed in oak-framed and reed-thatched buildings
·         and an Elizabethan garden, created by a leading Yorkshire garden designer, with ornate box-edged beds of vegetables, cottage flowers and herbs.
Eight morning performances have been set aside for schools during July at £10 per seat. These will be available to book in December direct through SEE Tickets on 0800 852 7244 or by emailing education@seetickets.com.
Originator of the project and CEO of international theatre company, Lunchbox Theatrical Productions, James Cundall, said "We had such a wonderful response from our 80,000 visitors in York over the summer and an overwhelming number of requests to return – so we are thrilled to be coming back to York, from 25 June – 1 September, with a new repertoire of plays: Hamlet, Henry V, The Tempest and Twelfth Night,and our expansion to the magnificent grounds of Blenheim Palace will enable us to bring this unique immersive experience of Shakespeare to an even wider audience.
"Preparations are now in full swing for eight Shakespeare plays, four companies of actors, two theatres and two Elizabethan villages!"
The Blenheim Palace season will be co-presented by Raymond Gubbay Ltd, who have a wealth of experience promoting events and concerts worldwide, including the hugely popular 'Christmas at Blenheim Palace' illuminated trail and Cinderella experience.
Anthony Findlay, Chief Executive of Raymond Gubbay Ltd, said "We have had the pleasure of working closely with Blenheim Palace for the past three years and have also enjoyed successful partnerships with Lunchbox Theatrical Productions on their touring shows. It's hugely exciting that all three companies have now joined forces to bring this fabulous Shakespearean experience to the beautiful grounds of Blenheim Palace and the audiences of Oxfordshire and beyond." 
Dominic Hare, Chief Executive of Blenheim Palace, said "When I visited SHAKESPEARE'S ROSE THEATRE in York over the summer I was absolutely blown away, not only by the quality of the whole event, even down to the vintage carts and wagons, but by the extraordinary experience of seeing Shakespeare performed in such an intimate setting.  It created the most astonishing connection between audience and actors, and produced some truly spine-tingling moments. 
"I immediately thought it would be the ideal summer event for Blenheim Palace, and am immensely excited at the prospect of bringing these outstanding Shakespeare productions, as well as the Elizabethan experience, to such a stunning setting. We believe that Shakespeare's Rose Theatre will bring many more visitors to the area for everyone's benefit as well as being a marvellous cultural experience for local people."
Full details of the creative team and cast for the SHAKESPEARE'S ROSE THEATRE company will be announced in due course.
SHAKESPEARE'S ROSE THEATRE and Shakespeare's Village are produced by Yorkshire-based Lunchbox Theatrical Productions. The Blenheim Palace season is presented in association with Raymond Gubbay Ltd and Blenheim Palace.
Blenheimpalace.com/shakespearesRT
#shakespeareatblenheimpalace
Listing Information
SHAKESPEARE'S ROSE THEATRE at Blenheim Palace
Monday 8 July - Saturday 7 September 2019.
For full performance schedule please visit blenheimpalace.com/shakespearesRT
Booking Information
Book online blenheimpalace.com/shakespearesRT
By phone 0871 220 0260
Calls cost up to 13p per minute plus your phone company's access charge.
In Person SHAKESPEARE'S ROSE THEATRE, Blenheim Palace, Woodstock, Oxfordshire, OX20 1UL from 10am, Mon 8th July 2019
Tickets 
All seats in SHAKESPEARE'S ROSE THEATRE are the same – comfortably cushioned and backed, with plenty of leg room.  Groundling tickets in the courtyard are open-air, all other seats are under cover.  Visit blenheimpalace.com/shakespearesRT for seating plan and further details.
Premium £70.00
A Reserve £55.00
B Reserve £45.00
C Reserve £35.00
D Reserve £25.00 (restricted view)
Groundlings £15.00
Wheelchairs - Courtyard £15.00, Premium £70.00.  Each wheelchair space includes carer seat free of charge.
Children (17 and under) £3 off all seats, £2 off Groundlings.
Groups of 10+ receive 10% off and groups of 20+ receive 20% off Premium, A and B Reserve tickets, with a further 5% off if booked and paid for by 28 February 2019.
Up to 15% discount available when daytime entry to Blenheim Palace is booked with a theatre ticket.
Prices inclusive of booking fee. All transactions are subject to a single charge of £2 for print at home tickets and collections or £2.50 for postal