Upscale Kenmore holiday resort, Taymouth Marina is given go-ahead for new water sport development facilities and enhance visitor experience at Loch Tay following planning approval.
A new breakwater to provide shelter from waves, 40 floating pontoons for berthing and a large timber-supported over-water ropes course will be created as part of the development that is anticipated to attract in excess of 100,000 visitors to the site per year.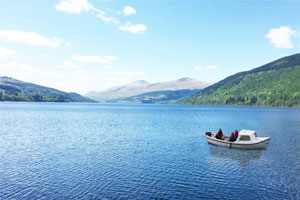 The resort, which last year saw a record 17,000 people partake in its water sport activities, currently offers a breadth of water sport amenities, including sail and motor boats, open canoes, inflatable climbing walls and giant paddle boards.
As waves in the loch often force the closure of the facilities, it is hoped that the new water sport development will reduce the seasonality of tourism in Taymouth Marina and the wider area of Kenmore thereby encouraging more visitors year-round.
Speaking of the upcoming developments, Eric Strickland, the owner of Taymouth Marina said: "The new water sport facilities represent the start of something very exciting, not only for Taymouth Marina, but for the wider area of Kenmore.
"Kenmore's idyllic setting against the backdrop of Loch Tay and neighbouring Munros makes this area the jewel in the crown of Scotland's natural landscape, but one that has been largely undiscovered.
"The council's decision to approve planning permission for this development will help to put Kenmore on the Scottish tourism map. The expanded facilities, as well as the challenging over-water ropes course will mean that we are able to provide an unrivalled experience to visitors to this part of Scotland."
The fully-extended development will result in the creation of ten full time jobs, and contribute £3.46 million to the local economy over 3 years of stable trading.
Professor J John Lennon, Founding Director of Moffat Centre for Travel and Tourism, said: "Taymouth Marina, as a rural tourism business located in Highland Perthshire, continues to develop and grow, investing at a time when many operations are struggling to continue trading.
"The proposed water sport development will have a positive economic impact and generate employment in a quality mixed water activity development. Such positive economic impacts and increased employment at a time of uncertainty in the wider UK and Scottish economy is to be welcomed. The development will help increase tourist visitation, extend facilities for the resident population and provide a stimulus to the local economy."
Works on the water sport development are expected to take place from Autumn 2019. Visitors can keep up to date with the developments and opening times at www.taymouthmarina.com.