The city of Canterbury is looking forward to a year of welcoming pilgrims and visitors as 2020 heralds the UK-wide celebration 'Year of Cathedrals and Pilgrimage' and a Becket2020 programme marking 850 years since Thomas Becket's murder at Canterbury Cathedral.
Canterbury holds a pivotal position as historically the most visited destination in Britain for pilgrimages with popular routes starting and ending at the city. These include the Via Francigena route from Canterbury to Rome, starting at the zero stone within the cathedral precincts; the famous Pilgrim's Way from Winchester Cathedral to St Thomas Becket's shrine at Canterbury Cathedral and Southwark to Canterbury - brought to life in Chaucer's Canterbury Tales.
The popularity of pilgrimages is trending in tourism with a 10% year on year growth and one of the fastest growing segments of the travel industry*. With modern tourists seeking authentic, sustainable experiences, today's pilgrimages are open to all and are no longer just for the religious. It allows walkers to tap into cultural heritage whilst benefiting the environment its communities.
2020 also sees The British Pilgrim's Trust launching the Old Way Pilgrimage from Southampton to Canterbury; aiming to become a route that models best practice to help take British pilgrimage forward. The route was discovered by William Parsons on a 14th Century road map and has been developed into an authentically ancient 220-mile pilgrimage via the South Downs. The Old Way holds particular poignancy this year in light of the Becket2020 programme as it is the same pilgrimage route that Henry II walked to show remorse and sorrow for the killing of Thomas Becket. He ended barefoot in the city with all the monks of Canterbury whipping him.
Visit Canterbury's Tourism Engagement Officer, Kathryn Hearnden says: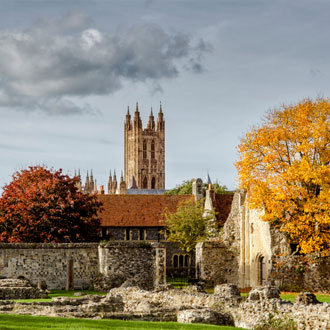 "The Canterbury of today still offers all visitors, pilgrims and more, the opportunity to experience its history first hand via attractions, events and historic buildings. The city was awarded UNESCO status in 1988, made up of Canterbury Cathedral, the ruins of St Augustine's Abbey and St Martin's Church – the oldest English-speaking church in the world. All within walking distance of the city centre.
"2020 is a year of celebrations for the city with a host of events as part of Becket2020 programme; The Lambeth Conference and a number of events in wider Kent such as the 149th Golf Open - giving people reasons to include Canterbury in their travel plans."
A sample of events across the city and the wider county next year include;
Becket 2020 (Canterbury) – marking 850 years since Thomas Becket was murdered in Canterbury Cathedral during the reign of King Henry II. Highlights of the events include; Medieval Canterbury Weekend with Canterbury Christchurch University 3-5 April, A Pilgrimage Chapel at Canterbury Cathedral's Eastern Crypt from April – October and Medieval Pageant and family trail with heritage organisations across the city 4 July. The full programme which includes lectures and exhibitions and more can be found here: https://becket2020.com/events
October 22-24th - Murder at the Cathedral (Canterbury Cathedral) - The most visceral experience of the murder of Thomas Becket, experience a re-enactment within the cathedral, where it happened in conjunction with the Marlowe Theatre.
400th Anniversary of the Mayflower (Canterbury) – One of the first pilgrim voyages to America organised by Robert Cushman who lived in the city, Canterbury have created a brand-new trail for visitors https://bit.ly/2uwlqxH
149th Golf Open Sandwich, Kent (14 Miles from Canterbury) – Global sporting event
150 years since Charles Dickens' died - explore Canterbury's literary links to one of the world's greatest writers. Step in Dickens' footsteps to sites that inspired him across the city. David Copperfield is educated in Canterbury within the novel and the cathedral, crooked house and The Sun Inn all feature within the book https://bit.ly/2Go8zjD
150th Ann​iversary of Canterbury Cricket Club - 2020 marks a special year of events for the cricket club there is a programme of events, including a service at Canterbury Cathedral and party at Vitality Blast Match in July. https://www.kentcricket.co.uk/news/clubs-150th-year-programme-unveiled/
Download the Canterbury 2020 Toolkit with fact sheets click here