We'll give you a clue – this musical has been running for 76 years and is based in the deep south, says reporter Victoria Galligan.
Research from online ticket software company TicketSource called for a round of applause for the musical theatre productions that have stood the test of time.
And using a unique scoring system, the study has revealed which shows are the most Instagrammed, plus the Top 5 places searching for musical information.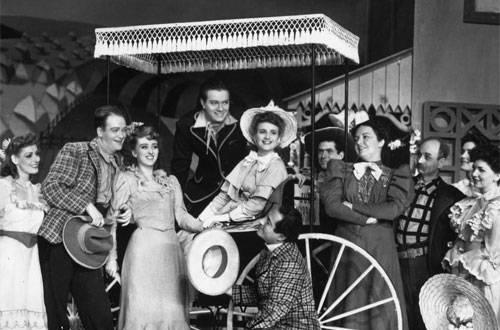 Oklahoma! tops the list as the longest running show, debuting on Broadway in 1943, it is continually revived and performed today in theatres across the world. 
Among Instagram users, Beauty and the Beast tops the list, scoring over 5 million mentions, followed by family favourites Chitty Chitty Bang Bang and Matilda, both with more than 1.8m mentions.
Meanwhile, using Google Search trends, the research revealed which UK places can't get enough of musicals. And who knew Brentford was all singing and dancing?
10 productions with longest runs
Oklahoma! - 76 Years
My Fair Lady - 63 Years
The Sound of Music - 57 Years
Hello, Dolly! - 52 Years
Fiddler on the Roof - 51 Years
Cabaret - 50 Years
Jesus Christ Superstar - 49 Years
Grease - 48 Years
The Rocky Horror Show - 46 Years
Chicago - 44 Years
The 10 most Instagrammed musicals
Beauty and the Beast (5,863,073)
Chicago (4,119,665)
Chitty Chitty Bang Bang (1,881,325)
Matilda (1,835,711)
Miss Saigon (1,598,188)
Hairspray (1,450,343)
Grease (1,183,372)
Cabaret (1,182,487)
Aladdin (1,034,670)
Mama Mia (1,000,406)
Top 5 UK places searching for musical info
Brentford
Brighton
London
Watford
Croydon
For more information and to book tickets to your next musical, see: ticketsource.co.uk