Lightopia makes its London debut at the stunning Chiswick House and Gardens from 22 January until 1 March, inviting visitors to become Lightopians and explore the interactive and immersive city of light and stories.
Visitors are presented with illuminated badges - featuring the Chinese symbol of light - making them Lightopians and enabling them to explore the illuminated wonderland, using touch pads and drums to control extraordinary sculptures.
The handmade, silk installations combine ancient techniques of Chinese lantern making with modern technology to create a magical new world, with the theme for this year's inaugural event being "Harmony."
The event will feature acrobats, musicians and 47 groups of light installations, including the Tree of Light centrepiece - a 10m tall sculpture, surrounded by 20 drums, which Lightopians use to change the tree's colours illuminating the night sky, ensuring an ever-changing installation which allows visitors to become a part of the artistic experience.
Elsewhere, a stunning, 18m peacock will synchronise with music, as light pulses through its wings in time with the beat. And a breathtaking field of 70,000 individual roses will flicker and blaze across an expanse of land. Other installations include enormous, glowing eggs which change colour when rocked; musical buttons on the floor which create musical light shows when stepped on; paths of wintry flowers; an interactive Zodiac Sign piece, in which light and sound ingeniously travel together, and illuminated honeycomb arches surrounded by busy, glowing bees.
The Keys of Life piece invites guests to walk through illuminated, keyhole-shaped doors, while the Rainbow Tunnel and Angel Wings provide the perfect backdrop for Instagram-ready photographs. Chiswick House will also play a key role in the exhibition, as state-ofthe- art 3D video mapping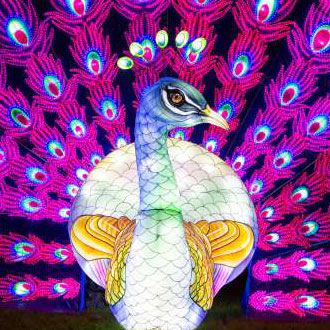 creates a visual masterpiece across its grand exterior, bringing the story of Lightopia to life.
Lightopia will incorporate street food stalls, licensed bars and a kid's zone where children can enjoy a fairytale world of candy, flowers, rides and even a Virtual Reality experience.
Ian Xiang, Creative Director of Lightopia, says: "We have designed a world in which light, sculpture and art combine with traditional, Chinese lantern-making techniques to create something London has never seen before - a world where guests are not just invited to view the show, but to become a vital part of it.
"Many of the exhibits will react differently depending on who is manipulating the lights, so the experience will change from person to person, night to night. "Lightopia is a celebration of techniques old and new, of art and design and of course, the people who come to experience it. We are inviting you to become a part of Lightopia and help create art as you move around the beautiful gardens of Chiswick House."
The installations have been designed by contemporary artist, Ava Moradi, with a mission to create an immersive artistic experience for visitors of all ages.
She adds: "All of the pieces explore this year's theme of Harmony, which is central to the world of Lightopia. "Visitors must work in harmony to control the pieces, and each installation is loaded with stories and symbolism exploring this powerful theme." Tickets for Lightopia cost £20 for adults, £13 for children and £58 for family tickets - 1 adult and 3 children, or 2 adults and 2 children.
www.lightopiafestival.com/london/