With the UK lockdowns winding down, and the public venturing back out into the gardens and parks across the country, Historic Houses officially launches the 2021 Garden of the Year Award with eight spectacular nominees to vote for from around Britain.

The Garden of the Year Award, sponsored by Christie's auction house, has been celebrating Britain's extraordinary historic gardens since 1984. The award is voted on by the general public and by Historic Houses members, with almost twelve thousand votes cast in the 2020 award, given to Mapperton Gardens in Dorset.

This year, following the challenges of Covid-19 and with the successful rollout of UK vaccines, the eight nominated gardens are looking to bounce back strongly, and will be using the award to raise their profile in what appears to be the most competitive year yet.

The nominees for the 2021 award, which you can vote for on the Historic Houses website here, are:
Doddington Place Garden in Kent: Doddington Place is surrounded by wooded countryside in an area of outstanding natural beauty on the North Downs. The landscaped gardens, recognised of being of historical importance by Historic England, are set in the grounds of an imposing Victorian mansion and cover ten acres. Read about them here.

Gordon Castle Walled Garden in Moray: A hidden gem situated between the River Spey and the Moray Coast, our Walled Garden is one of Scotland's best kept secrets. At almost eight acres in size it is one of the oldest and largest kitchen gardens in Britain and has been lovingly restored to its former glory with a modern design by world famous designer Arne Maynard. Read about them here.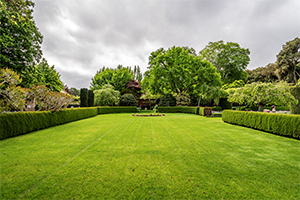 Harewood House Gardens in Leeds: An Italianate Terrace, designed by Sir Charles Barry in the 1840s, stretches along the southern aspect of the House and provides stunning views over Yorkshire's most beautiful landscape and lake. Crafted by Lancelot 'Capability' Brown, Harewood's landscape encompasses over 1000 acres and represents one of Brown's most famous vistas. Read about them here.

High Beeches Gardens in West Sussex: A hidden gem in the High Weald of Sussex, High Beeches is a botanical treasure trove planted with many rare trees and shrubs. There is much to see at every season: In spring the magnolias and camellias are under planted with swathes of daffodils and the woodland glades and vistas are, in early summer, carpeted with bluebells and filled with the colour and fragrance of the many rhododendrons and azaleas. Read about them here.

Kelmarsh Hall Gardens in Northampton: The Hall is surrounded by its working estate, grazing parklands and Grace II listed gardens. Kelmarsh boasts a distinctive Walled Garden, Sunken Garden, topiary and rose gardens, woodlands, lake and herbaceous borders – all designed principally by Nancy Lancaster, with Norah Lindsay and landscape architect Geoffrey Jellicoe. Read about them here.

Lowther Castle Gardens in Cumbria: The scale and beauty of the spectacular ruin that is Lowther Castle are reflected in the scope and setting of its 130-acre gardens. Here the past and present jostle for space. The Gardens were first formally laid out in the 17th century by the first Viscount, Sir John Lowther, a profound thinker and – significantly for the gardens – a committed vegetarian. Read about them here.

Penshurst Place Gardens in Kent: Surrounded by 11 acres of walled formal gardens and housing one of the few surviving medieval Baronial Halls in England, Penshurst Place is an historical gem in the Weald of Kent countryside. The stately home and gardens were once used as a hunting lodge for King Henry VIII, and now feature beautiful staterooms and grounds that are frequently showcased in popular TV and film productions. Read about them here.

Riverhill Gardens in Kent: 170 years of continual planting by six generations of the same family has created a rich and valuable plant collection for visitors to enjoy at Riverhill. The gardens are an intriguing mix of historic and traditional planting, with contemporary and quirky twists, making it a fascinating 'must visit' garden for families and garden lovers alike. Read about them here.
Ben Cowell, Director General of Historic Houses, said:
"We are a nation of garden lovers. The experience of lockdown has only made us appreciate the wonders of the garden even more. This is true whether we are lucky enough to tend a garden of our own, or simply enjoy visiting professionally maintained gardens to appreciate the work of talented gardening teams.

Every year, we hold a vote in a competition to find the UK's greatest garden. The eight gardens in our shortlist represent the very finest gardens open to the public across the country. They range from Nancy Lancaster's creation at Kelmarsh Hall in Northamptonshire, to Gordon Castle on the east coast of Scotland, to the gardens of Lowther Castle in the Lake District. Also included are Charles Barry's ornate terraces at Harewood in Yorkshire, set within in a landscape created by 'Capability' Brown, the botanical treasure trove of colour and arboreal delight at High Beeches in East Sussex, and no fewer than three gardens from Kent, the Garden of England.

We are proud to have run the Garden of the Year award annually since 1984 with the support of Christie's. Every year the race to the title is hard-fought, and this year's shortlist is no exception. Please do cast your vote, and show your support for these wonderful gardens and the talented gardeners who brought them to life."
Voting for the award closes on 30 September 2021, with the winning garden announced at the Historic Houses AGM in November.
About the Historic Houses Garden of the Year Award
For almost forty years the public have voted one of Historic House's member gardens their favourite of the year.
The award, run in conjunction with Christie's has gone from strength to strength since then – in 2020 more votes were cast for the shortlist than ever before, and a new category of award, the Judges Choice, was added to recognise smaller gardens.

Any garden of a Historic Houses member property that is regularly open to the public may enter the award. Our judging panel whittles down contenders for the main award to a shortlist of eight, which then compete to win the votes of the public and Historic House members all summer.

In addition, the panel will make a second, direct, award to a garden they consider embodies excellence on a smaller scale, either of area, staffing, or access, and hence has less opportunity to influence the popular poll.
Each winner holds the crown for the whole of the following year – the sought-after title can considerably boost visitor numbers, really putting the garden on the map.
About Historic Houses
Historic Houses is Britain's largest collection of historic houses and gardens. We work on behalf of more than a thousand important places, with the support of tens of thousands of members who love Britain's special heritage and want to help us carry out our mission.

Independent historic houses might be owned by individuals and families – often those who have lived there for centuries – or by small charitable trusts, businesses, educational institutions, or local authorities. Their independence makes them diverse and offers them opportunities, but it's also hard for lone sites to be heard and to find the expertise and money they need. We help protect these places through representation and research, advice and guidance, and marketing and membership.

Many of our houses, castles, and gardens are open as regular tourist attractions. Even with an amazing diversity of beautiful and fascinating places to see attracting over 26 million visitors a year, Historic Houses places attract fewer visitors on average than National Trust or English Heritage sites. Most deserve to be much better known. Our membership scheme, which asks the general public to join us in supporting these places, comes with hundreds of offers of free access to these incredible sites, encouraging members to explore less famous sites and make trips they might not otherwise have taken. That helps boost participating properties' incomes at the same time as generating much-needed funds for our work.

Visit historichouses.org to find out more about our work, our membership scheme and the Garden of the Year Award.