COVID-19 and new social distancing measures have led one soft fruit farm in Staffordshire to get creative, with the opening of its first ever strawberry drive-through.
 
Manor Farm Fruits located in Hints, three miles outside Tamworth, opened in 1973 and has been owned and run by the Clarke family for three generations. With a total of 55 acres of soft fruit, including strawberries, raspberries, blueberries, gooseberries, redcurrants, blackcurrants and blackberries, the farm is one of Staffordshire's longest established soft fruit growers.
 
While the farm would usually play host to thousands of visitors every year, keen to pick-their-own fruits, visit the onsite restaurant and shop and use the play equipment, this season has called for some innovative thinking.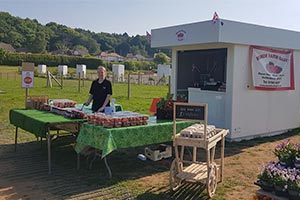 "We knew we needed to evolve and diversify, if we were to survive the current pandemic," explains owner, Elaine Clarke. "Launching a drive-through, selling fresh strawberries and fruit but also the key baking essentials we know people are searching for, has been the perfect solution.
 
"Working with portable retail specialist Rapid Retail, we were able to put our plans into place quickly and easily and we're so pleased with the result. The feedback we are receiving from customers has been amazing"
 
Rapid Retail has deployed three units for Manor Farm Fruits; a large kiosk that is being used for the drive-through shop and two smaller kiosks which will be used to take admission fees when a modified pick-your-own offering is unveiled in the coming weeks.
 
Elaine continued: "The popularity of the drive-through has already exceeded all our expectations and we plan to build on these foundations by adding even more products. We'll be taking the lead on this from our customers and their suggestions for what they would like us to sell."
 
Nick Daffern, MD of Rapid Retail, said: "It's been a pleasure working with Manor Farm Fruits on this project. The beauty of the kiosks and pop up shops we supply is how flexible they are and we're delighted they've been able to offer a viable solution that enables the farm to generate revenue in these challenging times."
 
The brand-new 'Strawberry Drive Thru'' is open daily from 10am-4pm selling strawberries, rhubarb, jam, chutneys, flour, cream, locally made cakes, eggs including duck eggs, plants and drinks. More fruits, including gooseberries and raspberries, will be added as they come into season. A one-way system sees customers drive up to the kiosk, choose their produce and pay, without the need to leave their car.
 
For more information, please visit www.manorfarmfruits.co.uk