11Arches, the registered charity producing the award-winning summer spectacular 'Kynren – an Epic Tale of England', has unveiled its brand new daytime themed attraction, 11Arches Park.
 
Offering 'Epic journeys through time with spectacular shows and immersive attractions in a beautifully landscaped open space', 11Arches Park is set to become a must-visit attraction.
 
Visitors will be able to step back in time and lose themselves in a Viking village, experience immersive and exhilarating live action shows as well as get close to nature in the park's beautiful landscape.
 
Daily schedules will ensure visitors get the most out of the experience and don't miss any part of the action.
 
Organisers are promising 'battle-cries, the thunder of horses' hooves, the heat of the Vikings' forge, a relaxing soundtrack of music and water, plus a cast of animal characters and cultural icons from all over the UK'.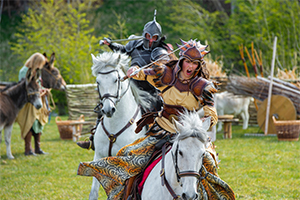 The attractions include immersive walkthrough; The Maze of Fame, the Kids' Viking Lair, the Dancing Waters show, alongside family favourites including the Animal Croft and the Viking Village.
 
Finally, take your seat at 4pm for the afternoon's crowning glory, the latest original show 'Fina and the Golden Cape' on the panoramic outdoor stage.
 
To celebrate opening, there's a limited edition 'Epic Ticket Launch'; entrance will be £10 for adults and children if purchased before 28 May, compared with on-the-door prices of £18 and £12, respectively.
 
Conceived and put together by the team who made 'Kynren – an epic tale of England', one of Trip Advisor's 'Top Five Shows to See in the UK', the new park promises that its site's uniqueness will be matched by its spectacular performances.
 
That uniqueness arises from a location steeped in history spanning the Romans, generations of powerful Prince Bishops of Durham, a horse-racing tradition and the Industrial Revolution.
 
Anne-Isabelle Daulon, CEO and Co-Founder of 11Arches, said: "We couldn't be more excited about at last unveiling 11Arches Park.  Everything that makes what we do so epic is going to be part of this new visitor experience: the amazing cast, the brilliant stunt-riders, as well as all the immersive experiences and special effects.
 
"We can't wait for visitors to experience it all. Nothing will beat the feeling of seeing families here, all having a fantastic time," she added. 
11Arches Park will be open every Saturday from 7 August – 11 September 2021, before opening fully in 2022. To book tickets and find out more, visit www.11arches.com.
   
WHAT:                     11Arches Park Open for 2021
WHEN:                    Open Every Saturday, 7 August to 11 September 2021
ADMISSION:           Epic Ticket Launch – £10.00 per person if purchased before 28 May
                                 Online Saver Price from 29 May £12 Adult / £8 Child
                                 On-the-door Ticket Price - £18 Adult / £12 Child
WHERE:                  11Arches Park, Bishop Auckland, County Durham, DL14 7SF
WEBSITE:                www.11arches.com