When you look back on your childhood, what memories stick out most? Playing out on your bike with friends, going on adventures, having picnics in the park…. All the best times were spent with loved ones and letting our imagination run wild. With Easter right around the corner, have a look at five favourite ways outdoor adventure and education expert, Kingswood, suggests will create long-lasting childhood memories.
Face your fears
Facing our fears is one of the scariest things to do, but it's definitely something we remember! Push your children to do things they wouldn't normally do, such as abseiling, high ropes or the scariest thing of all…making new friends! (All available at most Kingswood Camp locations).
Plan days out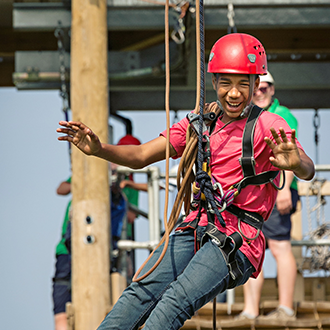 It doesn't have to cost the world to feel like you're on holiday. The UK has so many beautiful places to explore. Why not go for a long country walk (remember to wrap up!) or visit a brand new town and learn about its history – there are lots of free local museums to try.
Get crafty  
Get your creative juices flowing and build or design something as a family. You could gather some pinecones, leaves and sticks from the forest and paint them to create something cool such as leafy bunting!
Take mealtime outside
Having tea time under the stars or lunch in the sun are moments that will be cherished forever. You could surprise the kids by taking them somewhere new with picnic in tow, and enjoy good food, great company and even grander views.
Go on an adventure
There's nothing more fun or more memorable than going on an adventure, whether that's kayaking across a lake for the first time, climbing high above the trees, exploring in the great outdoors or going caving. Kingswood Camps are a great way to try out new activities and to give children a sense of independence and freedom while having an unforgettable experience.
Prices for Easter Holiday Adventures at Kingswood Camps start from £359 for four nights and are available across two locations in North Wales and the Isle of Wight. Other camp locations include Kent, Wolverhampton and Norwich. For more information visit kingswood.co.uk