The Middleton Railway was the first railway to be authorised by an Act of Parliament. It opened in 1758 and has operated trains every year since then making it the world's oldest continuously operating railway
Today the railway runs from our Moor Road headquarters into Middleton Park, one of the oldest in Leeds, where visitors can walk in the ancient woodland and in spring enjoy the sight of amazing displays of bluebells amongst the trees. In the park itself, there is a Visitor Centre where you can relax with refreshments whilst watching the children play in the newly refurbished playground. Middleton Park stages many events during the year, including music, birds of prey exhibitions and even model aircraft flying!   
The railway's Moor Road headquarters has a car park and is fully accessible for disabled visitors.  Our "Engine House" has a café serving light refreshments plus a shop selling a range of souvenirs, books and toys for people of all ages.  You can be assured of a warm welcome from our friendly volunteers!
The building has a museum displaying a number of locomotives and telling the story of the Railway and also locomotive building in the city of Leeds.  You can see how a steam and diesel locomotive works and children can go aboard a steam loco and blow its whistle – great fun!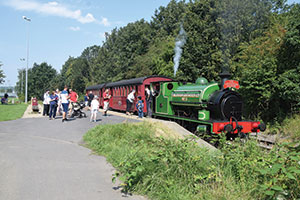 Steam trains run every 40 minutes on Sundays and Bank Holiday Mondays, diesel only trains run on Saturdays plus Wednesdays in July and August.  In December, we are visited by Santa Claus, who travels on the train giving gifts to all the children.  These popular trains are pre-booking only, via the website.
We are holding a number of special events throughout the year, including a Steam Punk Market and a Model Railway Exhibition, in July.  In June this year it will be 60 years since volunteers started operating the Middleton Railway, and to mark this event a 60th Anniversary Steam Event will take place. August 1st sees us celebrate Yorkshire Day with "A Taste of Yorkshire" food and drink festival – come and sample the delights of Yorkshire's cuisine!
Do you want to celebrate a birthday?  We can provide steam or diesel trains to celebrate that special occasion!  
A visit to the Middleton Railway and Park can offer a wide range of activities for all the family to enjoy, so why not come and help us celebrate our 60th years of volunteer led service to the city of Leeds?  Full details of the railway and its events can be seen on our website https://www.middletonrailway.org.uk/ .  We are also on Facebook, Instagram and Twitter.