Editor Victoria Galligan took her children to Bill's at the Trafford Centre for lunch and found a little oasis of calm among the hustle and bustle of the retail emporium…
Nestled within the chic New Orleans area of the Trafford Centre, lies a quirky little restaurant where you can get away from all the busyness of your shopping trip and enjoy some truly delectable food.
One of dozens of branches nationwide, Bill's in the Trafford Centre is lined with jars of jam and other Bill's produce. Recipe books adorn the counter and the contemporary industrial decor mixed with wooded panelling and shutters gives the feeling that you're in the heart of Paris rather than just off the M60.
I took my two young daughters – who had reeled off a list of the shops they wanted to go in after our lunch as we walked through the centre to New Orleans – and we were greeted on arrival by a friendly staff member. She told us who would be serving us and we were shown to our table.
The girls opted for vegetable sticks with hummus to start, and cod fish fingers, with fries and peas, were my eldest daughter's choice. The smaller one chose a kids' favourite – macaroni cheese.
I started with toasted focaccia with hummus and olives and ordered the Buttermilk Chicken burger.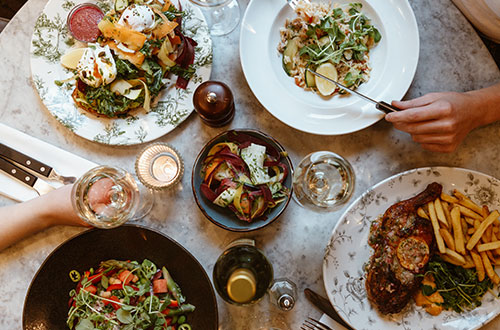 We devoured our starters (cue lots of swapping as the girls ate most of my focaccia!) and after colouring in the sheets with crayons provided by our waitress, the mains were delivered.
Everything on our plates had been carefully cooked and well presented – you could see real effort had gone into the meals and we dug in. My burger was a large portion and with coleslaw and avocado as sides, I was suitably satisfied afterwards. The fish fingers were battered to perfection (I had to try one to make sure, of course!) and my little one's macaroni cheese was creamy and very tasty (also, I had to sample some to check! I have such a tough job).
Looking around at other diners, there was a mixture of couples, families and even a large party meeting up for lunch. The relaxed atmosphere and perfectly convenient location make Bill's in the Trafford Centre the ideal place to chill out and enjoy some good food away from the crowds.
With clean plates and feeling suitably refreshed, we cracked on with our Trafford Centre journey. And the girls were so energised from their lunch, they piled up the baskets and I spent a fortune on sparkly clothes and headbands. What more could you ask for on a shopping trip?
New Summer Menu:
New dishes this summer include Paprika, Garlic and Chilli Roasted Half Chicken served with fries, pea shoots & spicy mayo, finished with an onion, parsley & lemon dressing, Crab and Courgette Risotto cooked in a smoky tomato stock with chives & plum tomato and Pea and Basil Hummus on Sourdough with Poached Eggs topped with raw rainbow carrots, courgette & fennel, served with purple dressing.
A new vegan dish has also been added, Kale, Chickpea and Miso Hummus Salad topped with edamame, asparagus, watermelon, pickled red onions, green chilli & toasted pistachios with an onion, parsley & lemon dressing.
To polish off the meal diners can enjoy a Mango and Passionfruit Eton Mess.
The drinks menu has also been added to with drinks featuring a Rhubarb Rossini – strawberry puree & rhubarb liqueur, finished with Prosecco; a Frozen Watermelon Margarita – AquaRiva blanco tequila, watermelon, lime, agave & ginger, blended with ice and Pineapple Somerset Sour – Somerset apple brandy, pineapple, lemon & Mediterranean rosemary.
Book Bill's at the Trafford Centre or any of the other Bill's restaurants nationwide here.
Photo: Milly Fletcher