Hard Rock Cafe® MANCHESTER is giving Mum the rock star treatment this Mother's Day with a limited-time "Treat Mum Like a Rock Star" menu. This à la carte style menu, made especially for Mum, will be available at Hard Rock Cafe MANCHESTER from March 18 through March 22 and is highlighted by Hard Rock's® Bordeaux Burger topped with Bordeaux fig jam, caramelized onions and creamy goat cheese, served on a freshly toasted bun with seasoned fries and chipotle aioli for dipping. Those looking to toast to Mum can start the day off with one of Hard Rock's Signature Sangrias including the Strawberry Peach Sangria made with a crisp white wine, St-Germain® Elderflower Liqueur, fresh strawberries, peach and lemon juice and topped with soda, as well as the Blackberry Sparkling Sangria that blends red wine with fresh flavours of blackberries, cranberry juice and a squeeze of orange before being topped with bubbly Prosecco. 
Hard Rock's Mother's Day menu also includes delicious starters such as Blue Cheese Chopped Salad and Fresh Garden Salad, as well as entrées such as New York Strip Steak with Marinated Mushrooms and Lobster Cobb Salad featuring sweet lobster pieces, avocado, roasted corn, black beans, Monterey Jack cheese, pomegranate seeds and crispy chickpeas on a bed of fresh mixed greens tossed in a creamy ranch dressing. Those looking to cap their meal off with a decadent dessert can order the Strawberry Shortcake Sundae that features fresh strawberries, classic pound cake, vanilla ice cream, strawberry sauce and fresh whipped cream. This dessert is perfect for mothers and their children to share, although Mum deserves it all!
Guests looking to celebrate Mum at Hard Rock Cafe MANCHESTER this Mother's Day can enjoy our 2-Course set menu. 
It's hard to find the perfect gift for the woman who does it all, so let her choose for herself. This Mother's Day give Mum a Hard Rock Cafe gift card to use on her favourite meal or take her to the world-famous Rock Shop® to pick out something special. Hard Rock Cafe gift cards are available at Hard Rock Cafe Manchester's Rock Shop.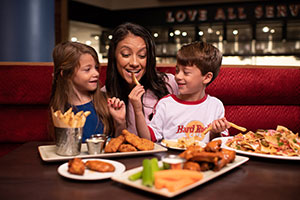 Those looking to dine at Hard Rock Cafe Manchester this Mother's Day can make a reservation in advance by visiting www.hardrockcafe.com.
To purchase Hard Rock Cafe merchandise, visit the online Rock Shop at www.shop.hardrock.com. For additional information on the Hard Rock brand, please visit www.hardrock.com.

About Hard Rock®:
With venues in 76 countries spanning 262 locations that include owned/licensed or managed Hotels, Casinos, Rock Shops® and Cafes - Hard Rock International (HRI) is one of the most globally recognized companies. Beginning with an Eric Clapton guitar, Hard Rock owns the world's most valuable collection of music memorabilia at more than 83,000 pieces, which are displayed at its locations around the globe. In 2018, Hard Rock International was recognized as a Forbes Magazine Top Employer for Women and Land Operator of the Year at the Global Gaming Awards. In 2019, Hard Rock International was honored as one of Forbes Magazine's America's Best Large Employers, Forbes Magazine's Top Employers for Women and No. 1 in J.D. Power's 2019 North America Hotel Guest Satisfaction Study among Upper Upscale Hotel Chains. Hard Rock destinations are located in the world's greatest international gateway cities, including its two most successful flagship properties in Florida and home to the world's first Guitar Hotel® in South Florida, where its headquarters are located.