Leap into London's First Immersive Time Travel Experience
This February, Londoners are invited to experience the city's first immersive bar experience with a time travel twist. Funicular Productions , the team behind the award-winning 'The Murdér Express', presents Cocktail Time Machine, a one-of-a kind cocktail themed experience at brand new East London venue Timeless Bar.
True to its time-tinkering nature the experience will officially launch on Leap Year, Saturday 29 th February 2020. Cocktail Time Machine invites guests back in time and space to enjoy some of the world's greatest cocktails at the moment of their inception. During the 75-minute experience, guests will be transported through three decades and countries via three different, delicious, era-defining cocktails.
Back in the present, intrepid time travellers are invited to continue the adventure in Timeless Bar, a drinking destination in itself with an all-day happy hour. Timeless Bar is turning the concept of time on its head by playing along to the age old idiom of it always being happy hour somewhere, and the bar will offer two for one cocktails from opening til close.
True to its name, Timeless Bar exists completely out of the realms of the time space continuum, so as minutes melt into hours, guests can stay and enjoy the drinks for as long as they desire. In-keeping with the theme, timeless classics will be served from the kitchen too. A mouth-watering menu has been created by MasterChef finalist Louisa Ellis, and features an array of dishes, both classic and contemporary.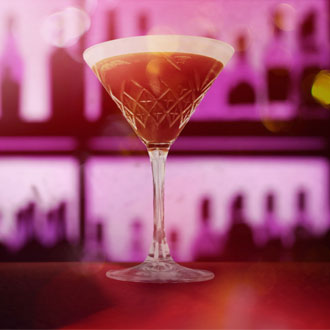 Snacks will range from original biltong to whipped cod's roe potato skins, and small plates include sage risotto with thyme and cultured cream and slow cooked beef with tarragon gravy. Those looking to order something on the side can try the crispy garlic potato rosti or a rich black garlic and truffle gnocchi dish.
Funicular Productions is a passionate collective of experience creators from across the spectrum of theatre and storytelling, specialising in creating truly immersive experiences to engage all the senses.
Co-founded by entrepreneur, actor and scriptwriter Craig Wilkinson and production director Ed Borgnis , the Funicular team boasts years of experience bringing events and theatre to life for brands, clients, and audiences all over the world.
Cocktail Time Machine Launching 29th February 2020
Wednesday/Thursday/Friday 6pm onwards, last admittance 10.05pm
Saturday 1pm onwards, last admittance 10.20pm
Sunday 2pm onwards, last admittance 7.05pm
Tickets from £36 Bookings can be made online: https://www.cocktail-time-machine.com/tickets
Or through Design My Night: https://www.designmynight.com/london/whats-on/activity/cocktail-time-machine