Following the success of Chez Antoinette Covent Garden, the husband-wife duo behind the much-loved French eatery has opened a second site in the heart of London's Victoria. Tucked away behind Victoria Street, just minutes from St James's Park and Victoria station, Chez Antoinette Victoria is one of the area's best-kept secrets, bringing authentic French flavours of long-held family recipes to locals and the surrounding business community in what is fast becoming one of London's most vibrant restaurant quartier.
 
Drawing inspiration from the infamous Parisian bistro, the restaurant offers modern interpretations of classic dishes using highest-quality, seasonal ingredients derived from French and local suppliers. Open Monday to Friday for breakfast, lunch and dinner, and Saturdays and Sundays for brunch, diners can look forward to class French favourites such as Croque Monsieur, Blanquette de Veau, many tartines made with toasted organic bread, daily homemade soups, and a delectable selection of freshly-baked desserts and pastries.  
 
To accompany the food, Chez Antoinette has an extensive wine list made up of different boutique and small production vineyards, representing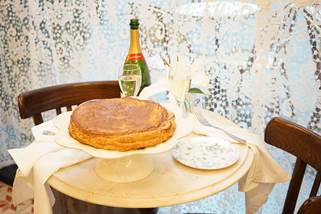 the many regions of France.
 
"Everything I know about food and dinner parties was taught to me by my beautiful grandmother, known to all as Antoinette" says co-owner Aurelia. "Our menus showcase her love for authentic French cuisine - every dish is prepared with the same love and joy that my Grand-Mère imbibed into our family's dinners."  
 
The two-level, brasserie-style surroundings are complete with high ceilings, mirrored walls and original French antiques from Antoinette's personal collection. Customers are often greeted by Aurelia and Jean-Baptiste, who position themselves at the very heart of the growing Chez Antoinette family.  
Find out more here: http://www.chezantoinette.co.uk