7 of the best afternoon teas in Wales according to Discover Ceredigion! Let us know what you think!
Get a taste of the sea
Nanteos, meaning stream of the nightingale, is a beautiful mansion house dating back to the 11th century, it sits between Cardigan Bay and the Cambrian Mountains, Ceredigion and it has recently launched a lovely new afternoon tea menu which features a range of traditional as well as alternative afternoon teas, all of which have been created by head chef, Gerwyn Jones. Freshly prepared in the hotel's kitchen, you can choose from a wide range of different afternoon teas: Welsh, traditional, seafood, Canadian, bubbles, as well as a Sunday Lunch afternoon tea and growing in popularity the Gentleman's afternoon tea. A particular favourite is the Cardigan Bay afternoon tea, featuring local dressed crab, laver bread and cockles – a must for all seafood lovers.
 
Fact box:
Nantoes: www.nanteos.com
Where: Cardigan Bay and the Cambrian Mountains, Ceredigion
Prices: Cardigan Bay Afternoon Tea - £24.95 per person
For more info on pricing and afternoon teas available: http://www.nanteos.com/m2mcms/uploads/file/afternoon-tea_july-19.pdf
 
Picnic on Barry Island
Bay 5 Coffee is an independent café sitting right on Barry Island's promenade. Come rain or shine, the coffeehouse serves up a delicious range of crêpes, ice creams and cakes, along with a variety of savoury options too. Most notably of all is their afternoon tea which is served on a miniature picnic bench. Alongside the traditional finger sandwiches, which boast a variety of fillings, are other savoury options including mini pies and open sandwiches. Homemade scones, macaroons and mini cheesecakes are in abundance to satisfy anyone's sweet tooth. Booking in advance is essential.
 
Fact Box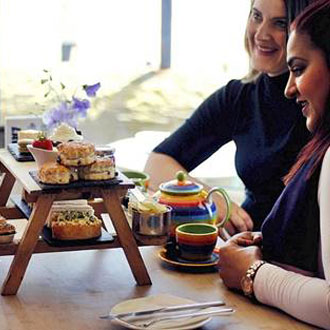 Bay 5 Coffee House: https://www.facebook.com/bay5coffee/
Where: Barry, South Wales
Prices: Original Afternoon Tea - £17.50 per person
Other afternoon teas available: Vegan - £20 per person
Free flowing fizz high tea - £35.00 per person
 
Afternoon at a country house
Nestled at the top of the Teifi Valley, the Falcondale Hotel and restaurant has a number of delicious afternoon teas to choose from, including the traditional sweet tea with homemade cakes, as well as a more unusual savoury tea for those who don't boast a sweet tooth. You'll find a great selection of seasonal sandwich fillings, as well as a wonderfully flaky and well-seasoned homemade sausage roll in both their traditional and savoury afternoon teas. Make sure to book ahead to ensure you are not disappointed.

Fact box
The Falcondale Hotel: https://www.thefalcondale.co.uk/
Where: Lampeter, Ceredigion / Mid Wales.
Prices: Traditional Sweet Afternoon Tea - £18.50 per person
For more information: https://www.thefalcondale.co.uk/restaurant/afternoon-tea/
 
Spend an afternoon in a quaint, old-fashioned gatehouse
Pettigrew Tea Rooms is an absolute must try if you're in the Welsh capital and on the hunt for a delectable afternoon tea. It offers complete personalisation of any afternoon tea, something which is ideal for fussier eaters, or those who have particular dietary requirements – they really do cater for everyone. Simply select two sandwich fillings, pick either plain or fruit scones and then request a cake of your choice from the huge range of homemade cakes at the counter – the raspberry chocolate cheesecake brownies are not to be missed.
 
Fact Box
Pettigrew Tea Rooms: http://www.pettigrew-tearooms.com/
Where: Cardiff
Prices: Afternoon tea - £16.45 per person for 2 rounds of sandwiches per person
Afternoon tea for two - £29.95 for two people sharing with 3 rounds of sandwiches
 
Afternoon tea for all
It is rare that you find somewhere that really does cater for all tastes, both young and old, but the Cliff Hotel and Spa in Gwbert does just that. Choose from a variety of different teas, one of which is perfect for the smaller members of the family. The Children's Afternoon Tea includes a selection of sandwiches, fruit and marshmallow kebabs, mini pancakes, mini doughnuts, muffins and a Jammie Dodger, with a strawberry milkshake to wash it down. The young and young at heart will not be disappointed.
Fact box:
Cliff Hotel & Spa Gwbert: https://www.cliffhotel.com/
Where: Ceredigion coast, just north of Pembrokeshire
Options for afternoon tea: https://www.cliffhotel.com/wp-content/uploads/2019/06/A5-Afternoon-Tea-Summer-2019.pdf
Prices: Children's afternoon tea - £7.95 per person
 
Sweet toothed vegans can enjoy afternoon tea at The Conrah
Afternoon tea at The Conrah, Ffosrydgaled, just outside the seaside town of Aberystwyth is a local favourite and it's easy to see why. Using entirely Welsh ingredients, their cakes and other delicacies are all made in-house. The Conrah Afternoon Tea is wonderfully Welsh and includes both Welsh cakes and Bara-brith as standard. Refreshingly, they also cater for vegans. The Vegan Afternoon Tea includes a selection of finger sandwiches with a range of fillings, including hummus & cucumber, carrot & red lentil pate and Cajun roast vegetable. Carrot cake, chocolate torte and bon bons are just a few of the vegan treats available to end your tea on a sweet note. 
Fact box:
For more information on the Conrah Hotel: www.conrah.wales
Where: Near Aberystwyth, Ceredigion
Prices: Standard afternoon tea - £15.95pp
Vegan afternoon tea - £15.00pp
 
A luxury Pullman train journey through the breath-taking Snowdonia National Park
For the peak of afternoon tea decadence, head to Snowdonia in North Wales. Travel first class on the historic Ffestiniog & Welsh Highland railway in a luxury Pullman carriage while enjoying traditional finger sandwiches, scones with clotted cream and jam.  You can then pair the stunning views sweeping by your window with a wide variety of sweet treats, including macaroons, filled choux buns and brownies. The only thing more beautiful than the tea is the picture postcard village of Beddgelert and the beautiful Aberglaslyn Pass you'll see as you dine. Could there be a better way to see Snowdon?
 
Fact box
Pullman Afternoon Tea: https://www.festrail.co.uk/afternoontea.htm
Where: Snowdonia, North Wales
Prices: Full package for 2 adults - £165.00 which includes luxury Pullman Afternoon Tea for two, first class return rail travel from Caernarfon to Porthmadog (or vice-versa), tea and coffee on the outward journey.
Full package for 2 adults plus prosecco - £185.00