In the heart of Fitzrovia, lies not just a pasta restaurant, but London's best pastificio.
For those new to the word, pastifici come from Italy and are laboratories where fresh pasta is made daily. Al Dente want to introduce Londoners to this Italian experience, by inviting guests to sit and enjoy their numerous dishes at their restaurant or providing a quick yet delicious takeaway offering.
Al Dente was born from the passion shared by a group of friends: handmade fresh pasta available for all. With traditional recipes sourced from Italy's best regions and cooked at the right cottura al dente (the firmness of cooked pasta), consumers can eat signature Italian dishes and prepare them at home themselves.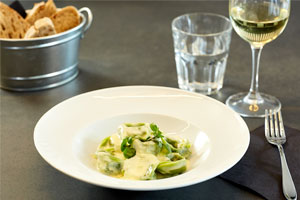 The young and vibrant restaurant provides an opportunity to sit, relax, and enjoy a meal, or simply take away a pasta dish of your choice. The pastificio also offers a selection of fresh pasta made daily for consumers to cook at home. In addition, you can ask the staff which wine available in their wine shop pairs best with your dish.
Roman founder Filippo Gallenzi has dreamt of opening a pastificio in London for a long time: "I grew up fascinated by pastifici in Rome which offered great quality pasta at affordable prices. They provided fast takeaway lunches in the heart of the capital city. When I arrived to London I wanted to recreate that here too, and Fitzrovia seemed the best place to open our first store".
With such a variety of options and reasonable prices, it's not hard to see why this is one of Fitzrovia's busiest spots. Order a plate of penne with rich homemade tomato sauce for £5.50, a creamy Spaghetti Carbonara for £6.95 or a filling Linguini Seafood for £8.95. To finish off, tuck into a Tiramisu or Sicilian Cannoli.
Al Dente's pasta laboratory is open for all those wanting to discover the true heritage of artisanal handmade pasta. Open every day of the week for an authentic Italian experience.
Visit the website for more information: www.pastificioaldente.com