Keswick Mountain Festival (KMF) has unveiled a packed line-up of outdoor entertainment and attractions as part of this year's annual festival, which runs from 15-17 May.  Over two nights, the main stage will feature live music, a DJ set and a special screening of a new film, accompanied by a performance of the musical score.
Keswick Mountain Festival (KMF), now in its 14th year, has established itself as one of the UK's best-loved outdoor festivals, attracting 20,000 visitors annually to Cumbria. In line with the entertainment being revealed, organisers have announced Land Rover as the festival's title partner which will see more facilities and activities on the site at Crow Park than ever before.  The festival will present a full programme of live entertainment on Friday 15 and Saturday 16 May from the main stage, located against a stunning backdrop of Derwentwater and the Lake District fells. 
The live entertainment will get underway on the evening of Friday 15 May, when the Batala Samba band will lead festival goers from Keswick town centre to the festival site. Friday night's headliner offers something new at the festival and will be an outdoor screening of award-winning filmmaker Terry Abraham's latest production, 'Life of a Mountain: Helvellyn'. 
Taking place only a week after its world premiere, this will be a unique opportunity for visitors to see the final film in Terry's acclaimed Life of a Mountain trilogy on a huge screen, with the landscape that the three films celebrate in the background. The screening will be accompanied by a live performance of the musical score in what is set to be an atmospheric and compelling conclusion to Friday at Keswick Mountain Festival. For every ticket sold for Friday night at KMF, £1 will be donated to charity, with the money raised to be split between the National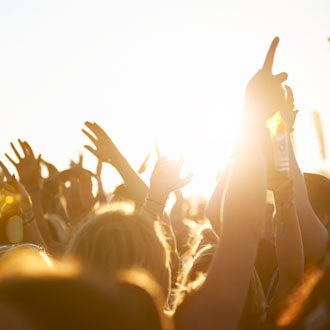 Trust, Friends of the Lake District and MIND. 
Saturday night offers a very different mix of entertainment, starting with Manchester based collective SWJ Group and their infectious funk and groove. Next up will be renowned live act Holy Moly & The Crackers, delivering "riotous party music for the masses" that features folk, blues and indie rock. Popular 90s outfit Space will also take to the stage at KMF, in the latest date on their Music for Pleasure Music for Pain Tour. Formed in Liverpool in 1993, Space released two platinum selling albums and also enjoyed success in the singles chart with hits such as Female of the Species, Neighbourhood, Me and You Versus the World, Avenging Angels and The Ballad of Tom Jones. 
DJ, raconteur, author, producer, broadcaster and Fun Lovin' Criminal Huey Morgan will provide a rousing finale to the live entertainment on the main stage at Keswick Mountain Festival. A regular presence on BBC 6 Music and Radio 2, Huey will bring his New York Lower East Side sensibility to Cumbria with a DJ set at KMF that will join the dots between funk, soul, disco, classic hip hop and rock 'n' roll. 
From 15-17 May, KMF will kick off this year's summer festival season with its unique mix of live entertainment, sporting events, outdoor adventures, high profile speakers, taster activities, exhibitor stands and camping for all of the family. 
The heart of KMF will be the Festival Village in Crow Park, which will be free to enter during the day and open to ticket holders on the Friday and Saturday evenings. 
Festival director Nicola Meadley comments: "We're very excited about both the live entertainment and the fact that Land Rover will be such a big part of the festival this year. Once again, we're proud to be able to give a showcase to Cumbrian acts alongside international stars and the screening of Life of a Mountain: Helvellyn will be a great way to continue that theme. Terry Abraham's films have become firm favourites with lovers of the Lakes and this conclusion to his trilogy is set to be the most spectacular yet." 
To find out more about KMF and book tickets, visit www.keswickmountainfestival.co.uk, email info@keswickmountainfestival.co.uk, find the event on Facebook, or follow @keswickfestival on Twitter and Instagram.