With UK residents set to head off on a combined 70 million trips abroad this year, the 13.3 million dog owners throughout the UK may be surprised to find out just how much money they could be saving if they simply took their dog away with them. With the UK spending upwards of 1.5 billion pounds on alternative dog accommodation each year, it's no wonder that the kennel business is heavily booming. So, whilst we're all contemplating booking our next trip abroad, it's important to consider, what effect does leaving our beloved pups truly have on our pockets, and would it be actually be more beneficial to have man's best friend travel with us? 
Savings
When organising and budgeting for holidays, selecting the right dog accommodation is an important factor to consider. For many, family and friends aren't an available dog-sitting option, in which case alternative arrangements may be required. With the average kennel in the UK costing upwards of £19 per day (that's a whopping £133 for a week's trip!) arranging your dog accommodation can be a significantly expensive and unexpected additional cost to your holiday. 
By opting for a UK staycation, and having the opportunity to take your dog along with you, you could be saving a small fortune each year, as well as making those all-important memories as a family, four legged friends included.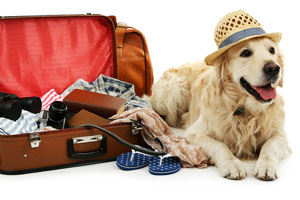 Health Benefits
One of the many benefits of owning a dog is their ability to encourage us to take to the outdoors and engage in some physical exercise, and whilst day to day walks may become more of a swift trip around the block, taking our dogs on an extended break can greatly increase the likelihood of taking part in regular outdoor activities. From coastal walks, to exploring local outdoor attractions, having a dog in tow can make for healthier, more active holidays. 
 
Health guidelines outline that the average human should be aiming to do around 2 and a half hours of exercise per week, and for dogs this ranges between 2 hours 20 minutes and 14 hours a week, depending on the breed. With studies suggesting that almost a third of British adults don't get enough regular exercise, the likelihood is that this unhealthy behaviour is also being transferred over to our dogs. 
Whilst this lack of exercise could be doing damage to both our pets and ourselves, there is also significant evidence to suggest that leaving our dogs for extended periods of time can have detrimental effects on their health and wellbeing. Dog Behaviourist Adem Fehmi, stresses "dogs are social mammals and we shouldn't be leaving them for more than 3 – 4 hours at a time, and this is even less for a puppy, to ensure they are getting the right amount of social company and stimulation" and as "dogs prefer to spend time with those who they have developed bonds with, you must weigh up whether taking your dog on holiday with you, or leaving them in kennels, is the right decision. If your dog is confident in nature, taking them on holiday could be beneficial, especially if your dog finds the kennel experience overwhelming, which can affect some dog's moods, causing agitation and stress."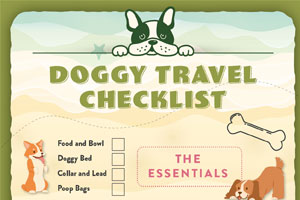 For all the Family
For most of us, dogs aren't simply just a pet, but are part of the family, bringing daily joy and endless entertainment. If you think about it logically, why would we not want to share our dedicated family time with them? Holidays give us the opportunity to spend proper quality time together, away from the distractions of daily life, so it's only right that this family time should extend to our dogs too. 
When choosing your holiday location this year why not explore dog accommodation for the whole family to enjoy together? The travel industry has picked up on the demand for such properties, and this has resulted in a fantastic range of suitable holiday homes right across the UK, with everything from caravan parks to luxury holiday homes by the sea being available. 
If you've made the decision to take your dog on holiday with you, then you're going to want to be as well prepared and organised as possible. Dog behaviourist Adem Fehmi stresses this further, "it is really important that an owner is well prepared when travelling with their dog, they must be equipped with the essentials and ensure that their dog is ready to travel". 
To ensure you have everything you need, Lyme Bay Holidays, specialists in dog-friendly holiday accommodation, have curated the ultimate doggy travel checklist. Being organised and making sure your dog is as comfortable as possible whilst you are away should leave more time to enjoy your break away together!