A GALAXY of soap stars are coming together to perform an 'Audience With' style live show in cinemas across the UK. 
The live shows premiere in Manchester, the first show featuring Coronation Street favourites Sherrie Hewson and Brian Capron, current Emmerdale star Chris Chittell, and EastEnders legends John Altman and Sid Owen.
Tying in with the launch of this soap extravaganza, fans will have the chance to audition and star in a soap of their own, alongside some of TV's biggest icons! 
An X-Factor style search for a star coming to Manchester on October 14th will culminate with a lucky handful of fans starring in the new soap, produced by Ex-Hollyoaks producer Jo Hallows and with theme music from soap legend Tony Hatch, composer of the timeless theme tunes to Crossroads, Neighbours and Emmerdale.
The soap, written by BAFTA winner Tony McHale, will screen at cinemas in 2019 and the producers even want to find a dog to star in the series and encourage pooches to be brought along to the auditions.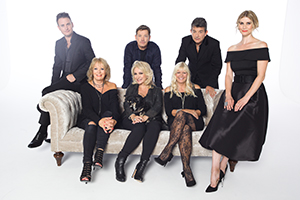 It truly is a once in a lifetime opportunity to #makeyourdogastar. To register for auditions, visit the website at www.soapinthecinema.com or send a message to 07745047615 – texts cost 50p plus standard network rate.
The project is the brainchild of actress Debbie Arnold, who has appeared in every major TV soap (Coronation Street, Emmerdale, EastEnders, Hollyoaks) and even featured in two soaps at the same time (EastEnders and Hollyoaks).
Arnold will co-present the live show with former EastEnders writer Tony McHale. 
She said: "When we were all in soaps, 25 million fans would tune in and they'd see us lot as old friends. Nowadays there seems to be so much less engagement with fans and that's a real shame. This show is all about taking soaps from the sofa to the big screen and we want the audience to be part of that! We want them to arrive as fans and leave as friends!"
The live shows kick off on October 14th at the Manchester Odeon where fans will be able to meet and quiz the stars about their favourite and most embarrassing moments on TV.
Altman, an original cast member from EastEnders, said: "It's very rare to get this many soap stars together all in one place, so this is a great opportunity for far-flung fans from across our soap-crazed nation to see who we are and what we're all about. It's going to be a great night out."
Each show will see vintage clips of memorable TV moments being played for the first time on the big screen – all in an intimate and atmospheric setting.
The Soap in the Cinema extravaganza is being rolled out at Odeon Cinemas starting in Manchester, then Darlington, Southampton & Brighton this year - with 19 more shows in 2019. 
Tickets for the star-studded tour go on sale later this month and other actors who have filmed inserts include Tim Bentinck (The Archers), Charlie Brooks, (EastEnders), Todd Carty, (EastEnders), Joel Beckett (EastEnders), Kim Tiddy (The Bill and Hollyoaks), Jacqueline Leonard (EastEnders and Coronation Street, Chris Ellison (The Bill), Angela Lonsdale (Coronation Street), Linda Lusardi, Vicki Michelle (both Emmerdale), Julie Peasgood(Brookside and Emmerdale), Ciara Janson and Loui Batley (both Hollyoaks) Gary Lucy (Coronation Street, EastEnders and the Bill).   
Even the official tour photographer is a soap star, former Emmerdale actor, Ian Kelsey!
The tour continues into 2019 with a further 19 shows booked for various venues around the UK and is supported by Inside Soap Magazine, the UK's leading authority on soap for the past 25 years.