In the build-up to The National Wallace Monument's 150th anniversary in 2019, Stirling District Tourism is asking the public to share their memories of the historic landmark.   
Past visitors and fans of the Monument are invited to share their own photographs and memories to The National Wallace Monument's #Wallace150 Facebook group, and it is expected that some fascinating stories and anecdotes from the past will be discovered.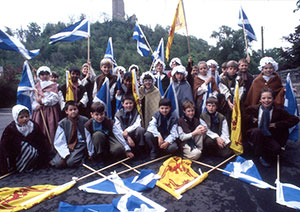 Since opening its doors in 1869, The National Wallace Monument has been welcoming visitors from around the world and telling the story of Scotland's national hero for 149 years. 
Speaking of the appeal, Marketing Manager Ken Thomson said, "It is believed that around 9 million people have climbed the 246 steps of the Monument since it opened. Undoubtedly many of these visitors will have fond memories of their visit and we'd love to hear them. We hope to receive some fascinating photos or hear untold stories from visitors around the world."  
Details of the commemorative activities and events marking the Monument's 150th anniversary will be announced at the beginning of 2019.  
To share your memories, use the #Wallace150 or contact The National Wallace Monument on social media – via Facebook, Twitter and Instagram.