To celebrate London Cocktail Week (1st October – 6th October), The London Essence Company announces the launch of The Light House – an immersive journey exploring the essence of light where light installation meets low-calorie cocktails crafted using London Essences' fine mixers and created by some of the world's most influential bartenders.
The Light House will extol all the benefits of a lighter life under one roof as guests will witness a multisensory experience through colour, scent, sight and sound, while sampling a selection of inventive light cocktails, each under 150 calories. By day The Light House will offer a sensory escape from the reality of our busy lives, where light is used to create a space of relaxation, serenity and clarity. By night The Light House becomes a must-see destination; refracting, reflecting, illuminating and stimulating everyone who steps inside.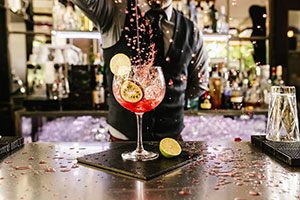 The London Essence Company's collection of fine mixers are made with distilled essences and are all low in calorie with naturally sourced sweetness, designed to accentuate the finest spirits. 
Where: at 5-7 Grape Street, WC2H 8DW (Tottenham Court Road Underground or Covent Garden Underground)
When: From Monday 1st October 2018 to Saturday 6th October 2018
Day session from 11:00am – 4:00pm
Evening session from 5.30pm - 10.30pm
Tickets: Tickets are available on Time Out for £12
Find out more about London Cocktail Week click here: www.drinkup.london