Taking on a farming and forestry theme for 2018, The Harvest Festival at Bowhill will take place on Sunday 30 September between 11am-4pm – celebrating the last day of its visitor season.
Throughout the day, visitors can enjoy a fun-packed schedule including woodturning with the onsite specialist and learn about horse logging through demonstrations.
There will also be a Bowhill Bake Off competition split into two age categories, over 12 years and 12 years and under. Budding bakers can bring along their Bowhill themed creations on the day alongside an entry form which can be found on the Bowhill website.
That's not all as organised tree climbing sessions will take place for adventurers over six years old at 10-11am. Tickets are priced at £20 for the one hour session which is one of a kind in the Scottish Borders. Visitors will have the chance to climb Scots Pine and Oak trees that are more than 200 years old.
And there's lots of fun to be had before the Harvest Festive takes place, with an array of activities for all ages scheduled throughout September before its visitor season comes to an end, including live theatre performances and outdoor Ranger fun.
Every Friday in September (21 and 28) there will be a Nutty's Little Squirrel Club for toddlers and little ones (under 6's) priced at £3.50 per child. These afternoons are a great way for the youngsters to explore and learn. Starting at 2pm, the activities involve woodland fun and games such as making mud pies and den building.
A mysterious event will be taking place on Thursday the 27th of September. Titled 'Catch the Killer: Holmes and The Mystery of the Unseen Blade' is a night with a difference inspired by Sherlock Holmes.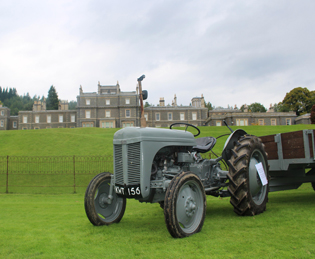 This spectacular evening will start at 7:30pm in the Minstrel Tearoom where supper will be served alongside a first class theatrical performance. Guests are encouraged to work in groups to solve the mystery.
Tickets are priced at £30, which includes supper, tea and coffee, and must be booked in advance.
Helen Currie, House Manager at Bowhill House and Country Estate, said: "We have a lot of exciting events coming up this month with the Harvest Festival making a return. This celebration is one not to be missed, and alongside the other events throughout September, we have something for visitors of all ages.'
Although the House and Estate will officially close for 2018 tours on Sunday 30 September, the calendar of events continues at Bowhill with Halloween and Christmas activities in the coming months.
For more information visit www.bowhillhouse.co.uk or follow @BowhillHouse on Facebook and Instagram.