The idea of not being able to eat out when on a diet is a complete myth, says Terri Ann Nunns, co-founder of the Healthy Happy Mum Plan.
The mum of four believes being healthy and having fast food or enjoying a restaurant meal is actually easier than many might think and to prove it, she's launched the Healthy Happy Mum Plan, Restaurant and Fast Food Calorie Guide, alongside Strictly Come Dancing's latest celebrity super-mum, Katie Piper and it's totally free to enjoy!
The celebrity pair have teamed up as part of their Healthy Happy Mum Plan venture to help mums and those trying to lead a healthier, happier lifestyle to enjoy fast food and eating out guilt free. Here's their advice:
Nando's
If you're looking for a healthy treat, Nando's is a great shout. There are over 50 different dishes under 600 calories, with dishes such as 3 chicken wings, ¼ chicken breast and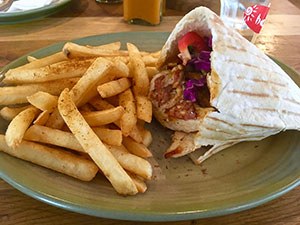 Naughty Natas coming in at under 300 calories.
TGI Friday's 
Anyone wanting to feel like they've really indulged without feeling the guilt of having a carb overload should head to TGI Friday's, you can enjoy treats like the Hibachi Skewers and BBQ Chicken Flatbread to the Bacon Mac and Cheese Bites and the Jack Daniels Flat Iron all for under 600 calories.
KFC
The range of low calorie options available at KFC might surprise some, but if you're smart about your menu choices, you can enjoy a range of chicken dishes of their menu. From BBQ Wraps and Popcorn Chicken, which come in under 300 calories, to the Fillet Burger and Original Recipe Ricebox, both under 500 calories, there's plenty of option for those look for a chicken fix without going overboard on the calories.
McDonald's
Despite popular belief, there are actually loads of options on the McDonald's menu that can be enjoyed as part of a low carb diet. For under 300 calories you can indulge in a Cheeseburger, Chicken McNuggets, Egg and Cheese McMuffin or Cheesy Bacon Flatbread.  
Subway
You'll be amazed by the number of items under 300 calories on the Subway menu. Enjoy a Cheese Toastie, Pepperoni Pizza, Steak and Cheese or Big Beef Melt guilt free. And if you feel like a real treat, the Chicken and Bacon Ranch Melt and Spicy Italian both come under 400 calories.
Starbucks 
Now Autumn is on its way, many of us will be heading to Starbucks for some winter warmers. For less than 300 calories you can enjoy a Starbucks Almond Biscotto or Shortbread biscuit, a Butter Croissant or a Pain au Chocolat.
Pizza Hut
Finally if the only thing that is going to cut it is a good old fashioned pizza, then Pizza Hut should be your first point of call. With a favourites such as a Margherita, Meat Feast and Chicken Supreme all coming in at under 200 calories a slice, you can treat yourself whilst knowing your limits.