Battersea Arts Centre's Grand Hall officially re-opens, Thursday 6 September, after the devastating fire that destroyed the venue in 2015. The opening is being marked with the Phoenix Season – a five month celebration of risk-taking and renewal - across what is now one of the leading venues in the country.
The stunning Grand Hall has been beautifully restored by award-winning architects Haworth Tompkins and is now an exquisite space for private and corporate events.
Housed in a Victorian Town Hall building, Battersea Arts Centre's rich heritage, beautiful architecture and creative flair make it an ideal location for those looking for something a little different.
Flooded with natural daylight and with original features from its rich 125 year history, it is ideal for hosting inspiring product launches, spectacular weddings, networking receptions, conferences and meetings. New technical infrastructure concealed in the roof allows natural ventilation and far greater technical, AV and acoustic possibilities than ever before.
The Grand Hall can host up to 300 guests for seated dinners and is serviced by its own in-house kitchen and adjoining bar. The venue can also host up to 600 standing or theatre style, and up to 800 for a gig. The Grand Hall has its own private entrance with guests arriving into the adjoining Octagonal Hall which has a spectacular mosaic floor and beautiful stained glass-domed ceiling.
The unique Haworth Tompkins rebuild has retained the walls that survived the fire and conserved them 'as-found' in their scorched, post-fire richness and complexity. A dramatic new lattice ceiling takes inspiration from the original 19th century design, while bringing the space into the 21st century. The new Grand Hall Bar features a vibrant back bar installation by artist Jake Tilson, who meticulously recorded the damage in the weeks following the fire.
David Jubb, Artistic Director and CEO of Battersea Arts Centre said: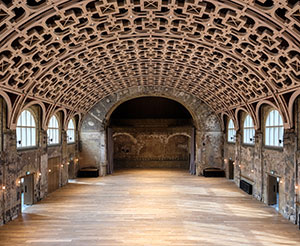 "The re-opening of the Grand Hall marks a massive moment for us – it's the first time the entire building has been fully open for the public to explore for 12 years. This follows an iterative project which has renovated and opened up the whole building. When the flames rose above the Grand Hall on Friday 13 March 2015 it looked as if all that progress might be lost. But due to brilliant and brave firefighters – and the incredible generosity of more than 6,000 people and organisations - the building was saved and the Grand Hall is reborn! 
"Now is the time to celebrate and so our Phoenix Season includes some of the UK's most exciting theatre artists, with a series of breathtaking shows set against the stunning and theatrical environment of the Grand Hall. And the season also includes some of our most exciting work happening in partnership with our community in which we continue to support other people's great ideas. We hope you can join us."
Steve Tompkins, Founding Director of Haworth Tompkins said:
"It's been such privilege to be part of this long, experimental journey.  In true BAC style, much of the work has been improvised and tuned as we went along through constant reappraisal and feedback, responding to circumstances and changing our plan when needed.  I think this equipped us well to face up to the shock of the Grand Hall fire together and work out the most creative way to rebuild.  As architects, artists, producers and members of the wider community, we set out to make BAC a place where everyone can feel part of a shared, creative risk-taking project, and for us the last twelve years' collaboration has already fulfilled that ambition." 
Toby Jones, actor and patron of Battersea Arts Centre said:
"Battersea Arts Centre has not just been restored, it has been revolutionised. The Grand Hall is now one of the most exciting and flexible venues in London. To alchemise beauty from rubble and grace from catastrophe is entirely consistent with the dynamic artistic and political history of this building. Battersea Arts Centre continues to scratch and sniff at what it means to be a popular participatory theatre in the twenty first century. I'm proud to be a small part of it."
The first full theatre show in the Grand Hall, on Thursday 6 September, is Missing by acclaimed physical theatre company Gecko – the show that was in the space when it was destroyed, and now returns to finish its run. The Phoenix Season, supported by Phoenix Partners - Bloomberg Philanthropies and Haworth Tompkins, continues with shows by National Theatre of Scotland, Bryony Kimmings, BAC Beatbox Academy, Dead Centre, Lekan Lawal, Little Bulb, The Paper Cinema, Lemn Sissay, the BAC Moving Museum and others. 
Image credit: Fred Howarth