Exploration, navigation and discovery are the key themes for 2019 at Penshurst Place and Gardens, with a busy calendar of activity running from February through to the end of the year.
Join the great explorers on an enjoyable and educational journey around the world, with a packed line-up of entertaining days out for all the family. Just watch out for pirates and sea monsters along the way!
The programme of activities has been put together in honour of the 700th anniversary of the first circumnavigation of the Earth, which was organised and started by Ferdinand Magellan and completed by Juan Sebastian Elcano. It also marks the 210th anniversary of Charles Darwin's birth and the 160th anniversary of his classic book On The Origin of Species.
The fun starts in February half term week with an 'Around the World' trail, taking visitors on a journey around the historic gardens discovering key exploration equipment hidden in the 11 acres of individual garden rooms as they go.
Other highlights in the first few months of the year include an immersive Armada experience with costumed actors, providing fascinating insight into the lives of Queen Elizabeth I and her household as they prepared for the Spanish Armada, and a close encounter with Captain Blackbeard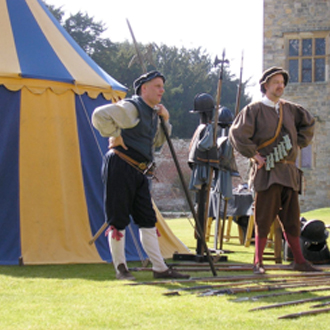 and some of his crew who will share tales of their adventures on the high seas.
Brand new events for 2019 include cannon firing to kick off the Easter Holidays, a gin tasting experience in the Baron's Hall to celebrate National Gin Day in June; and a bumper Glorious Gardens weekend including pre-bookable bonsai tree and hanging basket workshops, plus free guided garden tours.
Outside of the house and gardens, Penshurst Place will once again be hosting a collection of fun parkland events including the ever popular Run or Dye 5k run, the Weald of Kent Country Craft Show, and returning for its third successful year, the Volks Weald Volkswagen Show.
Penshurst Place & Gardens will be open daily for the February Half Term, 16th – 24th February, Weekends only from 2nd – 24th March, and daily from 30th March – 27th October. Most events are included in the standard admission price unless otherwise stated. For further information about what's on and to buy tickets, visit www.penshurstplace.com/whats-on