Special ribbon cutting events have been held at Notcutts Ashton Park Garden Centre in Manchester and Notcutts Victoria Garden Centre in Pontefract to celebrate the opening of two new show gardens, designed to inspire local gardeners with imaginative planting and landscaping ideas for their own outdoor spaces.
Caroline Notcutt, Vice-Chairman and Great-Granddaughter of Notcutts Garden Centres founder Roger Crompton Notcutt, cut the ribbon to officially open the new gardens at Notcutts Victoria on 17 July and Notcutts Ashton Park on 18 July, alongside local dignitaries, businesses, customers, and Notcutts colleagues.
The Notcutts Garden is a permanent display at both garden centres, providing ideas and inspiration for garden design and brightening borders all year round. Tranquillity is the theme of both show gardens, which incorporate a large water feature, elegant pergola and a shaded seating area.
There are over 300 plants of 30 different varieties featured in the show gardens, including Arum Lilies and Foxgloves in calming white and pastel pink shades. Dicksonia Antarctica tree ferns produce masses of luscious dark-green fronds, while Betula Alba birch trees make an impact with a majestic silver bark in winter. Rhododendron, Azalea and a mix of Hardy Perennials add a vibrant burst of colour. Both gardens were designed and built by Notcutts' Head of Visual Merchandising, Marco de Jongh, and Plant Buyer, Stuart Andrews.
Caroline Notcutt, Vice-Chairman of Notcutts, said: "The gardens celebrate the best of what we do at Notcutts – with over 120 years' horticultural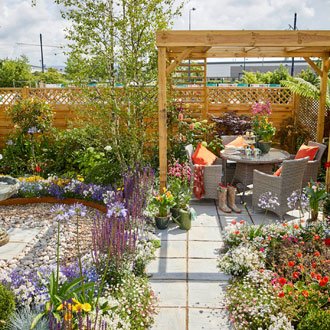 experience and 50 Gold medals won at RHS Chelsea Flower Show, we're pleased to bring our expertise in planting and garden design to our customers in Yorkshire and Manchester."
Kath Mitchell, General Manager at Notcutts Ashton Park, said: "We are very proud to unveil our glorious garden, which is a fantastic addition to the garden centre. I hope it will inspire customers with new and creative ideas to create a garden which is perfect for them."
James Wrycraft, General Manager at Notcutts Victoria, said: "Thank you to all who joined us for our special garden opening event. It is now my pleasure to be able to nurture and grow the Notcutts Garden for all to enjoy and I hope it will become a key part of our local community."
The Notcutts Garden is free to visit all year round at Notcutts Victoria on Wakefield Road in Featherstone, Pontefract and Notcutts Ashton Park on Lord Sheldon Way in Ashton-under-Lyne, Greater Manchester. Many of Notcutts' 18 garden centres nationwide have a special display garden, each with different themes and designs.
For more information about Notcutts, visit notcutts.co.uk.