MADAME TUSSAUDS BLACKPOOL TEAMS UP WITH ODEON TO RUN SPIDER-MAN GIVEAWAY
FREE CINEMA TICKETS TO SEE NEW SPIDER-MAN MOVIE ON OFFER AND MARVEL PRIZES FOR ALL GUESTS FOR ONE WEEKEND ONLY
SIMPLY TAKE A SELFIE WITH YOUR FAVOURITE SUPERHERO FOR YOUR CHANCE TO WIN
Madame Tussauds Blackpool has teamed up with ODEON to run an exclusive Marvel giveaway, which will see 10 attraction visitors win a pair of cinema tickets for a preview screening of the new Spider-Man movie.
All other attendees will also receive a Marvel prize to take home.
Running this weekend, the mega-Marvel giveaway comes ahead of the hotly anticipated new film's release on 2 July.
To enter, all guests have to do is take selfies with their favourite superheroes and show their pictures to Madame Tussauds Blackpool staff at the shop as they exit the attraction. Amongst the cast of Marvel characters guests can get up close and personal with are Captain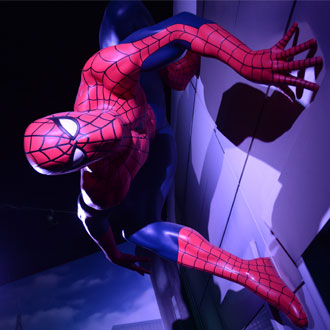 America and Captain Marvel, Hulk, Thor, Iron Man, and of course, Spider-Man.
This latest outing for the webbed super hero, Spider-Man: Far From Home, follows on from the finale of Avengers Endgame and sees the character, played by Tom Holland, take on new threats in a drastically changed world. 
Matthew Titherington, general manager at Madame Tussauds Blackpool, said: "This giveaway means there's more fun to be hand in getting a selfie with your favourite Marvel SUPER HEROES than ever before; guests can still take part in activities including lifting Thor's hammer or raising a New York taxi from the ground with Hulk, but now with the added bonus of Marvel prizes and maybe even a free cinema trip."
A spokesperson for ODEON, said: "Our spidey-senses are tingling in excitement for Spider-Man hitting the big screen this coming week! Swing on down to Odeon once you've grabbed your selfies at Tussauds and immerse yourself in the Marvel universe once again."
For more information or to book tickets to visit Madame Tussauds Blackpool, please visit: www.madametussauds.com/blackpool.
For more information on ODEON, or to book tickets, please visit: www.odeon.co.uk.