Enjoy the ethical festival feel-good factor at the Manchester Vegan WinterFest this November. Sachas Hotel will be playing host to an exciting Christmas vegan shopping experience. Whether you've got some vegan friends to buy presents for, fancy trying some festive vegan food or are fed up with buying the usual gifts and are looking for something that's plastic-free, this event will have everything you need to create the perfect cruelty-free Christmas…
The 2019 Manchester Vegan WinterFest will take place in Sachas Hotel right in the heart of Manchester City Centre on Saturday 2nd November 2019 from 10.30am - 4.30pm.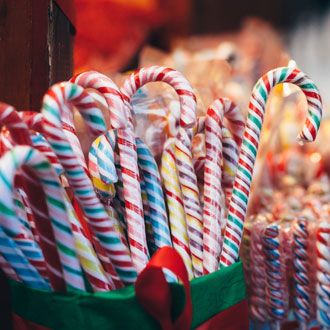 This unique WinterFest features over 80 fantastic stalls offering a wide variety of festive vegan produce, including Christmas cakes, mince pies and chocolate. There's also make-up, shampoo bars and bath bombs ranges, such as iUVO Skincare, clothing from Viva la Vegan and Wear Your Voice, and ethical gift ideas from stalls like Eden Perfumes (with Viva La Vegan) and Vegan Poochy Treats. 
Hot takeaway food includes delicious dishes from Got No Beef Burger Bar, Greek Vegan Deli, Herbivorous, Home Kitchen and VDogs. There will also be free Bute Island Sheese samples to enjoy, plus food stalls including Tyne Chease and Liberty Vegan Sweets and Gifts. There will also be all day informative talks and exciting cookery demos to inspire.
And in the true Christmas spirit, the festival also helps local homeless people, whilst also helping to reduce food waste. Stall holders are asked to donate any surplus food at the end of the festival, and a group of volunteers distributes it to homeless people after the event, providing a hot meal as well as cold dishes.
The Manchester Vegan WinterFest takes place on Saturday, 2nd November 2019 from 10:30am to 4:30pm at Sachas Hotel, Tib Street, Back Piccadilly, Manchester M4 1SH. Entry is from just £3 (under 16's free) and this includes entry to all areas and activities. Standard tickets are purchased at the door on the day. VIP tickets, £15, include fast track entry and a goody bag full of vegan products, samples, discounts and offers can be purchased in advance but sell out quickly. For more information please visit www.veganeventsuk.co.uk or www.facebook.com/VeganEventsUK