Spectacular views and a masterpiece of Victorian engineering The Great Orme Tramway is Britain's only funicular, or cable-hauled, tramway that travels on public roads. It's been delighting visitors since it opened in 1902. The Tramway climbs a mile (1500m) high through the Great Orme Country Park and Nature Reserve to the Great Orme's spectacular summit high above Llandudno. Visitors re-live the experience of travel more than 100 years ago in the original tramcars, each named after a Saint.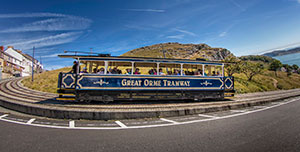 The unique journey begins at Victoria Station, a short distance from Llandudno's seaside and pier. Passengers climb aboard one of the beautifully restored tramcars and start the ascent through the winding roads of the Great Orme. The tramcars do not have windows, and the Great Orme summit is 207m (679 feet) high, so remember to bring something warm to wear!
At the Halfway Station exhibition, there's time to discover the remarkable history of the Victorian engineering and observe the Tramway's powerful funicular system in action, before changing trams. Continue the journey to the Summit where the views are breath-taking. On a clear day, it's possible to see as far as the Isle of Man, Blackpool and the Lake District!
There's plenty to do at the top – begin by exploring the Visitor Centre, where you can also buy an official souvenir of your journey. If you're feeling energetic, wander the miles of footpaths and walking trails. Look out for the rare silver studded blue butterflies and the wild Kashmiri goats which live on the hillside, descendants of goats presented to Queen Victoria.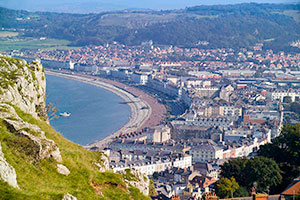 History buffs can explore the Bronze Age copper mines, Iron Age fort remains and the 6thcentury St Tudno's church. Coffins used to be brought up to the church on the tram – mourners were charged the full fare, plus 2s 6d for transporting the coffin!
Bring a picnic or pop into the Summit Complex café and bar, while the kids can enjoy the large adventure playground or play a round of mini golf.
Trams run regularly between 10am and 6pm every day from late March to November. Well-behaved dogs are welcome – a canine ticket is just £1.00. Discounts are available for families and groups of 10 or more.
More information at 

www.greatormetramway.co.uk

– download the free Great Orme Guide, Historical Trail route card, and Nature Trail route card, with a Nature Trail Detective Eye Spy.