Described recently by the prestigious Discoverer blog – alongside Virgin Galactic and Elon Musk's Hyperloop One – as 'one of five startups changing the way we travel', Boataffair has announced a host of exciting new benefits to members of their boat swapping community.
Boat swapping is a first for the sailing world and follows in the footsteps of the successful home swapping model made popular by sites like Love Home Swap. Launched last year, this innovative offering allows boat owners to connect with each other and get even more value from their boat, experience new locations and new boats – and all without the rental costs.  
Boat owners can enjoy a free 10-day trial to experience the boat swapping service – all they have to do is choose a membership option. And until 1st April 2019, Boataffair are offering 50% off their Classic or Premium Package. Once registered, owners can try out different boats in new locations for free, host other boat owners and get hosted in exchange. And they can enjoy a wealth of benefits from a 'Tinder' style matchmaking feature, to high quality complimentary phots and the option of being a 'featured listing'. Like everything Boataffair does, the experience is personalised and gives you more than you would expect.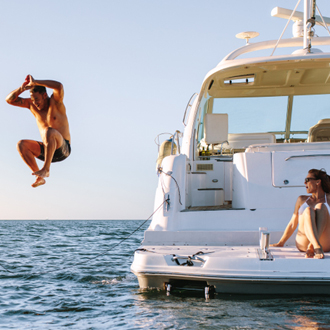 "This is a truly unique opportunity for people who own boats and love them to try out different boats in different locations without the cost of rental", says Natalya Walker, co-founder and COO of Boataffair. "Usually, a boat owner is restricted by the location of their boat. And when they travel, they don't usually rent boats out as it can be cost prohibitive. But not anymore!" 
As lifelong, passionate boat owners, the Boataffair team love connecting fellow owners across the world, helping them immerse themselves in amazing new experiences. Boataffair brings people together who want to swap, share, sail and adventure around the world in a new way.
Daniel from Australia swaps his boat with Djura in Montenegro. "Many people around the world now have wonderful assets which they have loved, nurtured and stamped with their own unique personality. Swapping, be it boat or house, enables people to have authentic and endearing adventures whilst keeping the costs close to travel costs only". Djura says, "Thanks to Boataffair my dream of exploring beautiful Tasmania on the sailing yacht is now possible. As a member of this dynamic boat swapping community I chatted with Daniel and agreed on our swaps. I am looking forward to welcoming him and his wife to Montenegro".
Boataffair is delighted with the success of their new swapping feature – and that so many boat owners have fallen in love with their matchmaking. It's a different way to discover the incredible…