One of the North-West's most celebrated hospitality entrepreneur's, Stephen Hargreaves, has launched a ground-breaking new offering at restaurant and music bar, Baha, and in doing so, put the Lake District on the map once again for its innovation and modernity.  

Taking his inspiration from Japan and the Far East, Hargreaves' Pacific Street Food offering, which launched on Friday, has received a rapturous reception from initial customers and been appraised as 'a breath of fresh air' in an area renowned historically for its tradition and fine dining.

With 'sharing' at the very heart of the Pacific Street Food ethos, Baha, which is based over three floors on Ash Street in Bowness-on-Windermere, will be the only establishment in Cumbria to use a form of cooking named 'Robata', with meat and fish baked on coals to give an authentic taste.

Creating the new Pacific Street Food menu is the result of the collaborative efforts of Hargreaves and passionate Baha Executive Chef, Jack Wyness, who cut his teeth at, amongst others, Michelin-star restaurant, The Samling.       

"Taking inspiration from the Pacific Ring of Fire, the new Pacific Street Food menu has a distinct international feel with a heavy Japanese influence," said Wyness.  "There is tremendous scope to be creative with the dishes we have devised.  In addition, we're the very first ones in Cumbria to be using the Robata method.  It's really exciting." 

Wyness is keen to pass on his recommendations from the extensive new menu which comprise such unique dishes as cauliflower, garlic soy, aioli and parmesan panko; mountain rice with chilli jam and oriental mushroom; and rope mussels with miso butter, coriander and lemongrass.

"We are fully expecting a rush on steamed bao buns," explains Wyness, "particularly served with Japanese fried chicken.  In addition, our miso-marinated chicken infused in rich, deep flavours over a 24-hour period, is a firm winner for me."

From the sweet trolley, Wyness has put his weight behind the homemade coal-toasted marshmallows, and drunken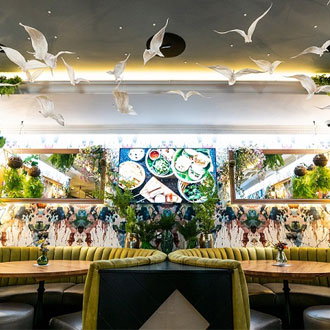 pineapple, lime and mint crème fraiche.  All dishes on the menu range from just £3.50 to £22.00 for Cumbrian fillet, chilli butter and crispy potato, with a savoury Extraordinary Afternoon Tea priced at £28.00.

Hargreaves' latest affordable offering for 'casual and social dining', comes two years after Baha launched, to much acclaim, in July 2017, following a £3 million project.  The establishment continues to offer live music, a space on the third floor for private hire accommodating 100 people, cocktails, bottles and on-brand drinks, and of course, Hargreaves' signature high-tech environment.  It has always been a unique and stylish space but its recent refurbishment, in line with the new menu, has revealed a more laid-back and informal interior.  Gone is the five-star fine-dining, and in its place, a thoroughly modern, fresh and mature offering, more London than the Lakes.

"Breaking the glass ceiling is not a new concept for me.  We're doing that again with our Pan-Asian food which is tasty, interesting and completely on-trend," says Hargreaves, who spent time in the capital's top Asian restaurants to research his new concept.  "Dining in 2019 has changed and customers want something unusual, stimulating and relaxed.  We're responding to that shift in culture.  In creating this new menu, we're also celebrating the very essence of what dining means: sharing and coming together with family and friends to enjoy good food and unique tastes.  Our Pacific Street Food is pioneering in this area and we're delighted to be able to bring this exciting concept to the Lake District."

For further information about Baha, please visit www.bahabowness.com