Following the success of the launch event Plate Restaurant, Shoreditch, are delighted to announce the next in their Afternoon Tea Academy series will be held on July 13th. It will see the team at Plate collaborate with the renowned tea company, P.M. David Silva & Sons for a glorious afternoon bringing together two beloved British classics for the ultimate afternoon tea experience priced at just £49 per person.
 
Afternoon tea lovers will be well versed when it comes to the essentials in a classic afternoon tea and all three tiers of the traditional stand have been reimagined for this special event - the twist? Each tier will be lovingly paired with a different handpicked tea by Dananjaya Silva from P.M.David Silva & Sons; who will be on hand to discuss the flavour notes to look out for when accompanied with the various courses.
 
Starting with the savoury plate, delicate finger sandwiches will include your favourite classics with a twist - Salted Cucumber with Tarragon Pesto, Preserved Lemon & Cream Cheese. Another inspired choice is the rich Beetroot hummus with smoked feta,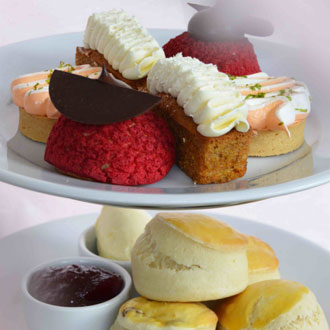 pickled beetroot & lambs lettuce.  This course will be served with New Vithanakande Tea - The tea is hand- picked at an elevation of 2,000 feet above sea level and grows next to a virgin rain forest, which heavily influences this tea and gives it a unique taste, resulting in an incredibly rich flavour, then infused with a caramel flavour.
 
A selection of freshly-baked, plain and raisin buttermilk scones will then be served, accompanied by rich clotted cream and a handmade strawberry preserve, alongside the Inverness Orange Pekoe Tea. The Inverness estate produces a rare large-leafed tea, the careful handling of the leaves produces an exquisite note of roses and lemon fresh citrus.
 
Lastly, the course everyone leaves some room for; handmade pastries from Plate's incredible in-house team. 4 individual creations will include Strawberry with Szechuan pepper and basil custard tart, Lemon and elderflower cake, Caledonia jivara milk chocolate and a light mango and lime crisp choux. Accompanied perfectly by Lovers Leap, cultivated in the 'Champagne' district at 6,000 feet above sea level, this is a wispy tea, which boasts an light taste perfect to finish off your pastries.
 
P.M.David Silva & Sons is a third generation family business; founded in the 1934's, all the tea's are handpicked and handled with special skill passed down throughout generations. Provenance is at the heart of each of their selection - each tea is from a single origin and not mixed so the taste of nature can be experienced through each.