The Original Tour has launched the first ever London Bar Bus; the ultimate outdoor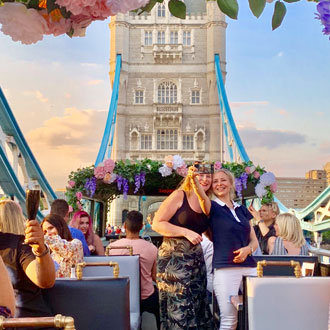 summer drinking venue which is set to delight Londoners and tourists alike, with its industrial-chic-meets-seasonal-floral interiors
Now that summer is officially here, there's nothing more British than clinking glasses over panoramic views of the city as the sun shines and the wind breezes through your hair.  From the historic views of Tower Bridge, to picture-perfect skylines along the River Thames and the stunning scenery of London's most iconic sights, the London Bar Bus is an experience like no other.
The London Bar Bus boasts a 44-seat mobile rooftop garden decked out with festival style lighting and leather booth seating. Adorned with seasonal floral arrangements, guests are transported to a secret summer garden where they can enjoy a refreshing gin and tonic or a cool beer*, whilst taking in the stunning views of the capital's skyline.
Whether you're after an epic setting for a date night or the chance to treat friends or clients to an unforgettable experience, the London Bar Bus is sure to be the highlight of your summer. This is the most exciting venue you'll be spotted at in 2019 – and the best selfie you'll ever take!
The Bar Bus will be operating daily from 20th July to the end of September, with daily departure times available online. Adult tickets are priced at £25 and can be purchased at: https://www.theoriginaltour.com/en/special-tour/london-bar-bus.