Whether its rescue or rehab that these orphaned and injured seals need, Natureland in Skegness is well known for helping those seals that become stranded on Lincolnshire beaches. As a visitor, you are able to see the different stages that each seal has to go through when in rehabilit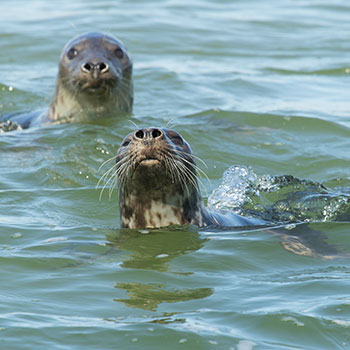 ation as well as having the opportunity to hear more about their rescue work during their feeding times.
Not only will you find seals here, but penguins, meerkats, butterflies and creepy crawlies can also be on the agenda to see as well as being given the chance to feed some goats at Pets Corner or be mesmerised by the wonderful tropical fish in the Aquarium.
Since opening their doors, Natureland had welcomed in, help recover and return to the wild wherever possible a wide range of unusual animals including whales, dolphins, walrus and even pelicans. their work with oiled seabirds or injured birds of prey is never done. Every year - particularly during the breeding season - seal pups are washed up on the beaches around Skegness, separated or abandoned from their mothers by the treacherous tides but the lucky ones are brought to Natureland's Seal Hospital where they are cared for by the dedicated staff members. One of the biggest challenges that the team at Natureland face is getting the pup to eat as they suckle differently to a dog or a cat so they cannot be taught to eat from a bottle. However, with a little help for only a week or two, they are able to eat whole fish which are known as sprats and measure up at about 3 inches long. Once their mouths are open, they soon queue up for their two-hourly feeds!
To find out more about how Natureland help the seals and other animals, visit their website and plan your trip today!!