With campsites opening up without restrictions and a summer of festivals lined up, more and more people are choosing camping holidays at home and abroad. The trend of van living is fast becoming a sustainable option for many people long-term. This handy article rounds up what you need to bring on your trip to avoid a camping disaster. Whether you're camping with friends or you've got the kids in tow, it's always a good idea to prepare. Follow our guide and be ready for any eventuality. A packing checklist compiled by Ecoflow, leaders in sustainable outdoor power solutions, will guarantee you don't forget anything crucial.  
Indispensable Camping Checklist 
Okay, so we're talking camping basics - the things you can't manage without - but we also appreciate the details that can add a touch of comfort to your trip. Remember when people thought they didn't need an inflatable airbed to sleep on or light to brighten their camping pitch? While getting back to nature and embracing all the outdoors has to offer may seem ideal, bringing along some home luxuries can make for a much more enjoyable experience.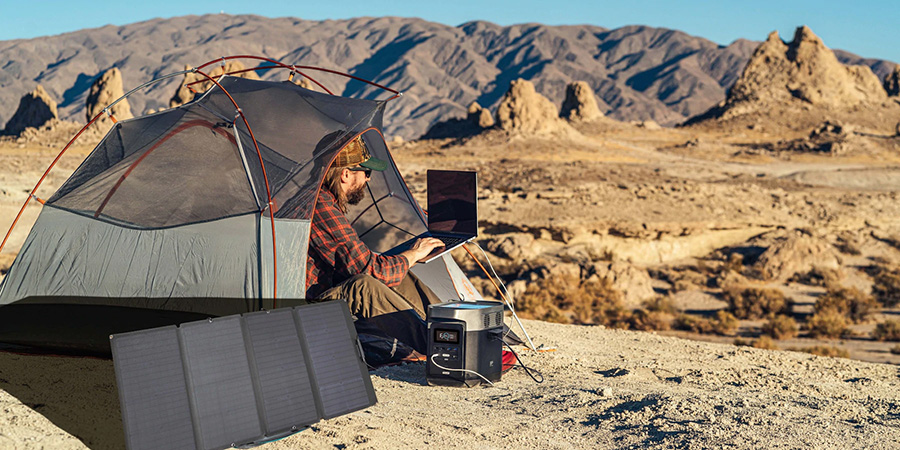 ●        A tent and tent pegs - this one's obvious, and there are plenty of great brands out there to suit every taste, budget and size requirement. Aim for a tent that can accommodate one or two more people than you need. The additional space is ideal for storing boots and bags if the weather is less than favourable. Kampa has a number of easy to set up tents.
●        Cooking pans - plates, cups, forks, spoons and other proper utensils (such as a tin opener and bottle opener). Bring what you use at home or invest in a reusable set. Decathlon has a range of cooking essentials for every requirement.
●        Small camping stove - plus any additional compatible canisters if you're using gas. Try Cadac for its multi-purpose range of burners.
●        Washing up bowl - and cloths or sponges can be useful for the post-dinner clean-up.
●        Water container - transporting water to and from your pitch is a lot easier when you have something to carry it in. You'll also limit trips to the tap every time you need a drink or a cup of tea. Packing a pint container or canteen is also a good idea for hikes. Go Outdoors stock a range of sizes.
●        Pillows - it's easy to forget them, but a small pillow can mean getting a good night's sleep. Sea to Summit has every type of pillow, from premium foam to deluxe varieties.
●        Sleeping bags - even in the summer, temperatures can drop steeply at night time. Outwell has a decent range of thicknesses and lengths.
●        A ground mat - airbed or rollmat. These pack down small and are lightweight. They won't take up a lot of space but offer welcome comfort and are worth investing in.
●        Pitch light - portable lanterns are readily available from your local supermarket. Keep your area illuminated, even when the natural light starts to fade. Torch Direct has a rechargeable version.
●        Torch - It's good sense to take a working torch with you - handy for those middle-of-the-night trips to the portaloo! Try Millets for their wide range of torches and light accessories.
Best Tech Choices for Camping
What's better than listening to your favourite tunes while lounging in a hammock beside your pitch? We've rounded up some of the most innovative tech suggestions and lightweight gadgets to pack on your next trip.
 "Reliable access to sustainable and portable energy is a priority when you are travelling with several devices such as laptops, cameras, drones, heaters, and mobile phones. EcoFlow's portable RIVER product offers renewable energy and storage solutions to use when you go off grid." - Thomas Chan, R&D Director at Ecoflow
●        Portable generator - a sustainable, durable, all-weather choice such as EcoFlow is easy-to-use and will keep all your devices charged - from a laptop or hairdryer to a small fridge. Most of us need a coffee to get going in the morning - but what happens when you realise you've forgotten to charge your coffee maker before leaving? We've all been there. Packing a portable generator will have you prepared for any crunch moment.
●        Bluetooth speaker - modern Bluetooth speakers are durable, light, waterproof and will last for up to 12 hours. Megaboom has a range of hardwearing, quality speakers.
●        Aeropress or coffee maker - weighing almost nothing, you're guaranteed great coffee with one of these in your bag.
●        Camping toaster - a foldaway device in a size that's suitable to transport. Ridgemonkey does a great deep-fill toaster. Grilled cheese sandwiches made easy!
●        Rechargeable projector - for those cosy film nights by the campfire. Check out Samsung's powerful compact projector.
●        Ice cooler - you probably won't have much use for ice, but keeping water, drinks, and refreshments cool is one of those luxuries you'll be grateful for at the end of a long off-site hike or excursion. Yeti's Roadie 24 is an update on the original.
●        Bonfire pit - the latest modern stainless-steel designs maximise the efficiency of burning wood, giving you a hot, smoke-free fire.Solostove is the ideal companion for outdoor adventures.
●        Headtorch - these have been around for years and are still as useful as ever. Smaller than a torch and wearable. Camping World stocks a good range of lighting equipment.
Convenient Extras
With all your technical needs in hand, it's important to make a checklist of those easily-forgotten extras. A little consideration and planning can make every difference to your overall comfort and creates a home away from home experience. Here are our suggestions for what else to bring.
●        Suncream - in the UK, we can always rely on the weather to catch us out! Grey clouds and heavy rain can quickly turn to clear blue skies and bright sunshine.
●        Mosquito and midge spray - places like Scotland are known to experience these seasonal pests. Insect repellent is especially important if you camp next to a river or lake.
●        Windbreak - keep your pitch protected from the elements with a rollup windbreak.
●        Bin bags - look after your surroundings and do your bit to preserve the area. Make sure to take your rubbish with you when you go.
●        Matches (or a lighter) - to get your stove going. Stormproof matches are one of the latest inventions being snapped up by campers.
●        Spare batteries - having a few more in your case can limit emergency situations where batteries are required.
●        Spare tent pegs - while you'll probably already have enough for your tent, bringing along a few more is helpful in an unexpected, high wind situation.
●        Rope or guyline - great for hanging up your swimming costume or drying out socks!
●        Mallet - ideal for putting tent pegs into the ground, especially in dry or stony areas.
●        First Aid Kit - useful to have around, just in case.
Now all you need to do is research, plan your route and get booking!
Information provided by Ecoflow: https://uk.ecoflow.com/products/delta-max-portable-power-station
About EcoFlow:
EcoFlow is a portable power and renewable energy solutions company. Since its founding in 2017, EcoFlow has provided peace-of-mind power to customers in over 85 markets through its DELTA and RIVER product lines of portable power stations and eco-friendly accessories. EcoFlow's mission is to reinvent the way the world accesses energy by innovating lighter-weight and longer-lasting clean, quiet and renewable power storage solutions. EcoFlow's products are now available in 35 countries and regions across Europe, supported by a network of over 300 local retailers.