Greenwich Peninsula's seminal festival, Urban Village Fete, returns this May with a line-up that perfectly reflects the event's signature of combining music, art, community, creativity and celebration. 
Renowned for its eclectic 'something for everyone' line-up, Urban Village Fete has pulled out all the stops for 2022 – having gone digital when COVID wouldn't allow us to celebrate in person, we know Londoners are ready to party in person again, so we're making it happen in the best way we know how. 
Headliner DJ's, cultural talks, pop-up immersive performers, interactive workshops & installations, family-focused arts & crafts, health & wellbeing classes, designer-maker market, artisan food producers & street food, cocktails and so much more – surely you're in by now? 
Greenwich Peninsula's seminal festival, Urban Village Fete, Sunday 15th May 2022  - 11am-7pm - Peninsula Square, Greenwich Peninsula, North Greenwich, SE10 0SQ 
Inspired by all that Greenwich Peninsula has to offer - expansive park, inspiring new architecture and river views, HemingwayDesign have curated a multi-faceted, site-specific, FREE event that showcases the best that London has to offer. Whether you get here by tube, bus, boat, bike, car or on foot – you won't be disappointed. A few minutes walk from three transport hubs and you're in the heart of the festival. Encouraging communities to connect and exploring a creative and energised Peninsula, 2022 is going to be something special. 
"When we first sat with the Greenwich Peninsula team nine years ago and pondered what a village fete might and should feel like in one of the world's most creative cities, we never imagined that within a very short time the idea of an urban village fete might grow into an annual event enjoyed by tens of thousands of Londoners. Urban Village Fete is now firmly in the cultural festival diary and I can't wait for the mid May Sunday to kick of summer 2022 " 
Wayne Hemingway, Founder, Hemingway Design 
Want to hear more?.... 
Bear with us as we continue to announce more acts but for now, check out what we already have lined up and get the event in your diary, as you're not going to want to miss this: 
CONFIRMED PROGRAMME TO DATE: 
● Live DJ sets throughout the day from some of the most sought-after electronic names 
● Get stuck into activities and sports for the whole family including dance classes, creative workshops. yoga, hula-hooping & double-dutch skipping (just think of the Insta posts if not the six pack…) 
● Designer-maker market housing everything from sustainable fashion, ethical beauty and independent lifestyle brands 
● Street performers throughout the day 
● Small scale food producers and street food offering everything from vegan doughnuts and social-enterprise sourdough to spicy curries and small-batch gin. 
● Cocktail bar housing all your favourite tipples to get you in the party mood 
● Cultural panel discussions: topical debates from people at the heart of the creative industries, sessions include:
'Feeding the City - The Challenge of Urban Food Planning' 
 'Creating an Urban Village' 
 'London - The creative city in a post pandemic world' 
 'London is a Forest' - In-conversation with & book reading by author Paul Wood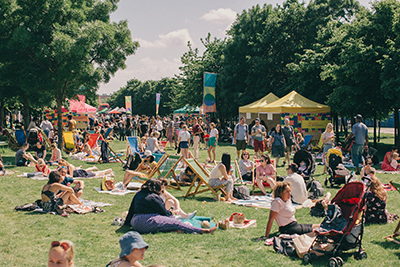 Urban Village Fete is without doubt London's biggest and best cultural & community focused festival. Created to help promote and support independent businesses and bring the best cultural and innovative line-up to Greenwich, Urban Village Fete stands on its own in terms of its impact and community-led inclusivity approach. 
Since its inception in 2014 it has helped showcase over 400 small independent businesses, generating a new-found customer base and revenue for these companies of over £1.5 million. It's brought over 180,000 visitors to Greenwich Peninsula and that number continues to rise. 
Urban Village Fete has grown organically, now housing more activities than ever before, showcasing more independent brands, multiple entertainment forms and ultimately a wider, more diverse and culturally diverse audience. 
"The Urban Village Fete is the highlight in our events calendar and we're so pleased to be able to bring it back to the Peninsula after the hiatus we've all experienced. We love seeing our community come together to enjoy the art, design and fun we've all come to know the Fete for." 
Kerri Sibson, Chief Operating Officer, Knight Dragon 
#UrbanVillageFete 
Location: Peninsula Square, Greenwich Peninsula, North Greenwich, SE10 0SQ 
Nearest Tube: North Greenwich – located directly outside the station 
Uber Boat by Thames Clipper: North Greenwich pier - a great way to arrive in style and only 2 minutes walk from Peninsula Square 
Timing: Sunday 15th May 2022 11am-7pm 
WEBSITE: https://www.greenwichpeninsula.co.uk/urban-village-fete/ 
INSTAGRAM: @thepeninsulist TWITTER: @thepeninsulist FACEBOOK: https://fb.me/e/34TfnHXl4