With a whole host of catchy tunes up his sleeve, guests are invited to enjoy a song and a dance at Freddo's Festival of Fun, the latest live stage show at Cadbury World.
Running every day throughout the summer school holidays from Saturday 23rd July – Sunday 4th September, Freddo's Festival of Fun is the latest stage show on offer at the Bournville-based attraction, which will take visitors on a musical journey with toe-tapping Pop, Rock and Country tunes.
With musical genres sure to delight the whole family, guests can expect plenty of excitement and entertainment as Freddo is transformed into an all-star performer for the new show. Encouraging singing, swaying and plenty of dancing from the audience, Freddo will provide festival fun that promises to entertain visitors of all ages.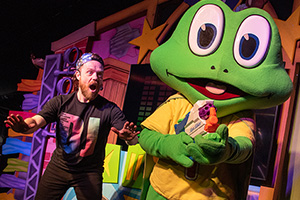 Elsewhere in the attraction, there's plenty to learn and discover through a self-guided tour of the attraction's chocolatey zones. Visitors can head to the 4D Chocolate Adventure zone to experience the sensation of riding on the Crunchie rollercoaster and diving into a pot of liquid Cadbury Dairy Milk in an unmissable cinematic experience.
Additionally, guests can head to the Chocolate Making zone to catch the talented chocolatiers in action and take a delicious taster for themselves, before practicing their piping skills and doodling their name in chocolate in the Have A Go zone.
What's more, the outdoor African Adventure Play Area is the perfect place for younger visitors to make the most of the sunshine, filled with tube slides, climbing zones and rope bridges. With a separate under 5s zone for little chocolate-lovers to enjoy, it's also the perfect place for adults to relax with a delicious snack and refreshing drink.
Gerrard Baldwin, general manager at Cadbury World, said: "We're so excited to welcome families to Freddo's Festival of Fun, our brand-new 15-minute stage show filled with singalong tunes! While you're here, why not extend the fun with a character dining experience too for a choc-tastic day out.
"We hope chocolate-lovers of all ages can come together to enjoy fun with Freddo in this engaging and unique show, which promises to entertain the whole family this summer."
With much more on offer, including The World's Biggest Cadbury Shop and the on-site Cadbury Café, Cadbury World is the perfect destination for a family day out this summer.
Pre-booking for Cadbury World is essential, for more information and to book tickets, please visit www.cadburyworld.co.uk.