As if we weren't already excited enough about the reopening of Cheshire's wildest family day out, BeWILDerwood Cheshire have announced an amazing offer for February half term. 
To celebrate the adventure park reopening, BeWILDerwood Cheshire are offering Buy One Get One Freeee (cheapest ticket freeee)* when visiting the magical woodland attraction between the 18th and 26th February. 
Creator and author of the BeWILDerwood book series Tom Blofeld commented,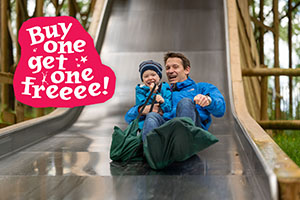 "This is an opportunity for those people who haven't had the chance to discover the wonky and wonderful world of BeWILDerwood yet to come along and join us for half term. See what all the fuss is about and make memories in the woods. But don't forget to wrap up warm and get ready for a day of good old fashion outdoor adventure!" 
Tickets for this limited time offer are available to purchase on the BeWILDerwood Cheshire website from the 12th January. Tickets are limited (to ensure visitors have the best time whilst in the woods) so you'll need to be quick to secure yours! 
BeWILDerwood Cheshire is an outdoor woodland adventure park for the whole family to enjoy. The attraction encourages adults to play too, so it's not just the little ones who have all the fun! Based on an enchanting book series, visitors can leave the real world behind and discover the magic of BeWILDerwood, spotting hints of the stories and characters as they venture through the woods. 
The 70-acre woodland consists of giant wooden treehouses, huge play structures, muddled mazes, den building and of course the famous slippery slides and wobbly zip wires. 
As well as all the WILD adventure BeWILDerwood is also known for its all-inclusive activities. Yes, that's right everything once you enter is included in your ticket – from face painting, arts and crafts, multiple shows and car parking. Meaning there's no hidden extra costs that you often get at other visitor attractions. Even without the offer, this really does make BeWILDerwood a great value day out to enjoy all year round. 
The Feb Half Term - Buy One Get One Free offer is on for a limited time only so get your tickets today and get ready to run WILD this half term: https://bit.ly/3W7Dd5f. 
*1 free ticket when purchasing another ticket, cheapest ticket free. Valid when visiting BeWILDerwood Cheshire between 18-26th February only. 
Tickets must be booked online in advance. To claim your free ticket, select Day Tickets (for the 18th- 26th February 2023 only) and select one 'Freeee Ticket (Buy One Get One Freeee Offer)' ticket per paying person. The paying ticket can be an Almost WILD ticket (92-102cm), BeWILD Now ticket (105cm and over) or a Still WILD ticket (65 years and over). Annual Pass holders can also claim this offer. 
Tickets are not transferable to another date and paid tickets are non-refundable. We cannot guarantee entry to the park without a pre-booked ticket. Special offer for BeWILDerwood Cheshire only. 
Opening Date and Times: 
BeWILDerwood Cheshire reopens on 18th February, opening half term and weekends only before opening daily from 1st April. See website for seasonal opening dates: https://cheshire.bewilderwood.co.uk/plan-your-day/opening-times-prices/ 
Admission Prices: 
Everything included in the ticket price (activities, crafts, storytelling etc.) 
Born to BeWILD (under 92cm) Free 
Almost WILD (92-105cm) £19.50 
BeWILD Now (over 105cm) £21.50 
Still WILD (65 years+) £13.50 
Carer (proof required) Free 
Address: 
BeWILDerwood Cheshire, 
Bickley Moss 
Cheshire 
SY13 4JF 
Email: yoohoocheshire@bewilderwood.co.uk 
Website: www.cheshire.bewilderwood.co.uk