Doodle It and Go Chalk Books – review
As cries of, "Are we nearly there yet?" echo across the country, we take a look at a product which could silence those bored in the back. If the children are keen on colouring in the car but you're not so keen on the mess, then the Doodle It and Go is the perfect solution.
The beautiful eight-page books come with a set of 4 ZeroDust™ Butterstix chalks; dust-free and pastel-like they glide easily on most non-porous surfaces leaving no stains, no mess and no dust. The Doodle It and Go Chalk Books are available with a choice of covers and each has a Velcro tab closure.
They provide an endless outlet for your child's creativity whilst at the same time saving paper. 
Butterstix are also available in a pack of 12 colours with a holder and they are completely safe for children.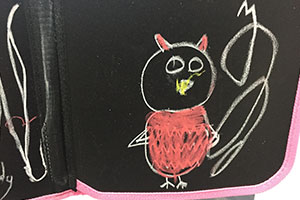 Review by editor Victoria Galligan
I asked my daughters, aged six and two, to try out the Doodle It and Go and they were suitably impressed.
The chalks are tucked away in a cute little pocket at the back of the book. And once the girls discovered them, there was no stopping the creativity.
The chalks are surprisingly durable – which means they don't break when dropped on the floor time after time!
Ideal for a holiday, the Doodle It and Go is suitable for young children and encourages them to draw or write as they go out and about on their travels.
The girls thoroughly enjoyed using this product and its re-useable nature means it's still going strong in our household!
Buy the Doodle It and Go chalkbooks from £24.94 at  eatwell-uk.co.uk.