Strand Palace has recently joined Green Tourism, the largest and most established sustainable certification programme in the world, with the aim of achieving one of their respected Awards. 
A Green Tourism Award means that a business works responsibly, ethically and sustainably, contributes to their community, is reducing their impact on the environment and aims to be accessible and inclusive to all visitors and staff. Businesses that meet the required standard receive a Bronze, Silver or Gold award based on their level of achievement. 
Strand Palace has worked tirelessly throughout 2019 to reduce water and energy use, minimise waste where possible, use more sustainable materials and now feels the time is right to join the programme and see what they can achieve. 
The hotel has been graded by a qualified Assessor against a rigorous set of criteria, covering a range of areas such as energy and water efficiency, waste management, biodiversity and social involvement and communication, achieving a Silver Green Tourism Award. 
Strand Palace has been particularly keen to minimise waste, including the introduction of segregated waste streams to ensure glass, cardboard and paper are recycled, the collection of empty biscuit wrappers from guests in exchange for charity donations, the distribution of reusable cups to all staff members and the installation of new carpets that have been made with 84,500 recycled bottles. 
The hotel has supported a number of charities in 2019 and engaged in a number of initiatives including MacMillan Coffee Mornings, Red Nose Day, Great Daffodil Appeal, Wear it Pink, Royal British Legion Poppy Appeal, Christmas Jumper Day, The Guide Dogs for the Blind Association and Great Ormond Street Hospital Charity. 
A number of steps have also been taken to conserve energy and water, with LED lighting being used throughout the hotel. Showers have also replaced baths in all the refurbished rooms and water-saving devices in toilets have been installed and reduced-capacity cisterns.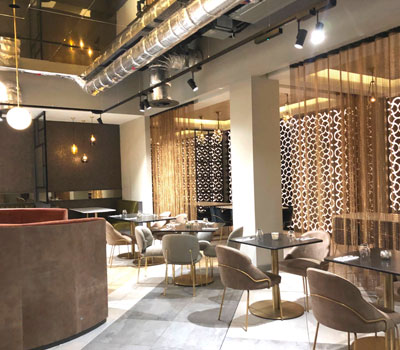 Camille Huber, Sales & Marketing Assistant, Strand Palace said: 
"We have been working extremely hard on implementing our Green Initiative at Strand Palace, so we are delighted to receive this award. As a business, we feel the hotel has a responsibility to both its guests and the wider community to be doing more to reduce its environmental impact. 
Having already established a Green Policy and Green Team to set targets and monitor our progress, receiving the Silver Green Tourism Award really affirms that we are moving in the right direction. For us, this is only the start of a long process to try and make the hotel more sustainable. We will continue to make improvements and strive to achieve a gold award in the future." 
About Strand Palace
Having welcomed guests since 1909, Strand Palace is surrounded by the best London has to offer. Set on the Strand, the hotel is located just minutes from Covent Garden and the River Thames, making it the perfect location for guests looking to indulge themselves in the heart of London.
The hotel's newly opened restaurant, Haxells, is an all-day dining affair, serving breakfast, lunch, dinner and afternoon tea. The restaurant is beautifully decorated and heavily inspired by the hotel's roaring twenties design, combining art deco glitz and gilded age elegance with a contemporary twist.
About Green Tourism
Green Tourism awards recognise places to stay and visit that are taking action to support the local area and the wider environment. Green Tourism is the largest sustainable certification programme of its kind to operate globally, assessing hundreds of fantastic places to stay and visit in Britain every year. Businesses which meet the standard for a Green Tourism Award receive a Bronze, Silver, or Gold certificate, based on their level of achievement.