It's fair to say Easter and crafting go hand in hand – who doesn't love a chilled afternoon decorating an Easter bonnet with their little ones or getting the paints and pencils out during the school holiday?  
But, fear not, crafting during the busy Easter break doesn't have to come with a big price tag or be time intensive. With a little help from the UK's favourite family-friendly retailer, The Works, you can create more for less, with a range of products that arty experts and novices alike will love!
So you can get creative sooner rather than later, The Works has been a real good egg and hatched a plan to help you nab a bargain and keep kids entertained for hours – some for as little as £1!
Cracking Crafts For All The Family This Easter
836 Piece Easter Craft Platter
The call for an Easter Bonnet for your child can put the panic in any unsuspecting parent, but there's no need to worry with the range of affordable crafts available at The Works! Thanks to the Easter Craft Platter, you can try a variety of embellishments, including sequins, pom poms, foam stickers, gemstones and much more for as little as £3. What's more, you can even get your Easter bonnets in yellow, blue and pink for just £1 here.
£3
Colour Your Own Easter Bag
Keeping your little ones occupied this Easter can be a little exhausting, so why not let them get their favourite set of pens out to decorate their very own Easter bag? Not only will this keep them quiet for an hour or so, but it can also double up as a carry bag for all that Easter chocolate they'll be picking up on their egg hunt!
£1
Easter Activity Pack
Perfect for kids aged 3+, the Easter Activity Pack is a must-have gift for your little one, complete with jam-packed crafty fun! With a colouring book, sticker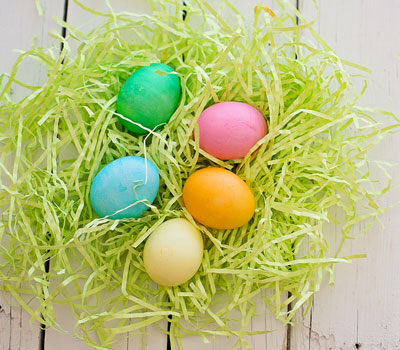 sheet, finger puppet and colouring pencils all included, you can keep those ankle biters amused for as long as you need them to be! 
£2
Easter Felt Decorations – Pack of 8
If you're looking to unleash your creative flare this holiday, why not try your hand at card-decorating? Not only will you save money on buying your own Easter cards, but you can get all the family involved and share your creations with your loved ones too! For just £2, you can pick up a 16-pack of Easter felt shapes that will be a beautiful addition to your handmade cards.!
£2
Easter Cookie Cutters – 5 Pack
Crafting doesn't have to just be gluing, sticking or colouring – how about getting in the kitchen and baking some delicious cookies in festive bunny, egg and chick shapes for a tasty Easter treat that everyone can enjoy? 
£2
That's all, yolks! For more information on The Works, and the must-have arts and crafts products for the Easter holidays, visit here.