"We are going to celebrate the return from lockdown by offering spectacular quality, supreme service and unrepeatable value," says Telford Hotel and Golf Resort General Manager Peter Nye. "We absolutely know that although our guests rightly expect to us to provide a clean and safe environment, they don't wish to be constrained at every step. We are being both safe and clean and utterly responsible for both staff and guests, but above all we are going to offer a fun experience for everyone."
The Hotel team have devised a series of high quality and keenly priced offers under The Great British Breakaway banner that has been in the planning for the last three months. Nye expects a strong take-up of this opportunity to visit the historic mansion set in beautiful Shropshire countryside and close to the UNESCO World Heritage Site at Ironbridge Gorge.
Offers include Two-Night Bed & Breakfast stays from just £71 per guest, Two-night Family Breaks from £201 per room including breakfast and a packed lunch for the whole family. Two-night Couples breaks are from just £78 per person including a bottle of wine in room. A stand-out is the One-night Golf break at just £93 per player including 36 holes on the hotel's award-winning course.
The group has also announced that they will offer a free two night stay to key workers, across their twenty hotel portfolio from next month. 1,000 nights and breakfasts will be offered to front line workers and their partners as a thank you for help and support during the Covid-19 pandemic. The public can nominate deserving people for the treat which can be redeemed at any of the participating hotels until to Spring 2021.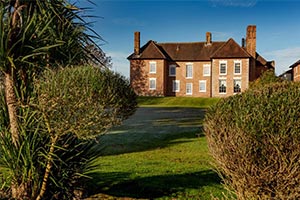 Telford Hotel, formerly the 17th century Darby House, offers a choice of spectacular bedrooms with period features. Set in 170 acres of stunning grounds with an 18-hole golf course, a 24-hour gym and recently refurbished spa, the hotel is the perfect destination for a relaxing break.
It is part of the Q Hotels Group which consists of 21 outstanding upscale properties ranging from country houses, city locations, resort properties with amazing leisure, spa and sporting facilities including golf and tennis, to "away from it all" manor houses with expansive grounds on the edge of renowned beauty spots.
"We understand that in these unusual circumstance our guests, and our staff, will place safety at the top of their checklist when choosing their hotel," said Nye. 
Having studied the various cleaning and safety standard programmes available, Q Hotels Group, including the Telford Hotel, has decided to go its own way with a detailed programme under the name Clean+Safe. Every aspect of the programme will be independently audited by acknowledged industry expert 'Shield Safety Group'. This will ensure that hotels are listed on the 'Safe to Trade Register', available to local authorities.   
"Inviting people into our hotels demands a degree of mutual trust," says Nye. "We trust our customers to be responsible in respect of their own health and others, and they trust us to provide a safe environment. We have set very high standards of cleanliness and safety together with practical guidance for our teams on how best to implement."
"The safety of our employees, guests and visitors is imperative and we have used the time while closed to explore the best way to move forward in preparation to open our doors."
The Clean+Safe programme covers everything from ensuring any barriers are open at all car parks when guests arrive to a no-checkout policy when they leave. Unlike many other hotel operators, Q Hotels Group are determined to ensure the majority of facilities can still be used but there are comprehensive changes to the way they are run.
Based around Government guidelines, the new protocol applies to both front and back of house. 
Some highlights include:
Audited Cleaning Regime
Hotel-wide cleaning to be to the highest possible standards and independently audited by industry specialists. TV remote control wiped with disinfectant, bagged and stickered as clean. All glassware, crockery, teaspoons removed and replaced with disposable items. Bedroom decluttered removal of bed throws and cushions.
Food & Beverage
Breakfast individually prepared and served, not self-service. "Grab&Go" wrapped snacks and drinks stations. Order at reception. Room Service menu, limited but of high quality, popular bought in items such as Stone Baked Pizza needing only minimal preparation and service. Restaurants and bars may not be opened immediately but plans prepared to allow physical distancing in all areas including kitchens. 
Leisure and Spa
Emphasis on social distancing and cleanliness/hygiene protocols with particular emphasis on changing rooms, showers and toilets. In studios a minimum 10 minute window between classes to allow all equipment to be cleaned. Sports areas and activities where social distancing is not possible will remain closed.
Swimming Pools
One bather per 3m2. Saunas, steam rooms, hot tubs and spa pools will only open if social distancing is possible. Only one parent or carer allowed per child.
Golf
Courses are already in successful operation. Tee times every 10 minutes. Booking on-line or contactless. Shop access limited to one person per group. Buggies single occupancy or same family members only. 
No-one in hospitality can claim to understand exactly what the future holds. Q Hotels Group, under the leadership of Richard Moore, have however like many, invested a significant amount of corporate time roll-playing as many different scenarios as they can imagine.
"We can't see the future but we can try to be light on our feet and prepare to be flexible in our responses. Above all we need to seek sustained growth of income and profit, luckily we are well resourced, focussed and passionate about restoring our business to a new normality. We are taking the long view."