MEDICINE FESTIVAL IS HERE – TICKETS ON SALE FOR NEW FESTIVAL INSPIRING POSITIVE CHANGE FOR PEOPLE AND PLANET
 
Medicine festival launches this year with the mission to find solutions – or the 'medicine' – for the planet and its people. The timing is perfect; the 2020s are being called the decade of action on climate change – one of the key areas for the event.
 
Taking place from Thursday 27 to Monday 31 August at Wasing Estate, Berkshire, Medicine is a new concept. It unites ancestral wisdom, art, wellbeing, future thinking, food, environmentalism, spirituality, music, dance, performance and creativity, to encourage people to reimagine the concept of 'medicine' for the planet and for ourselves.
 
The event is the first UK festival to see indigenous leaders from around the world play a key role. Seen as the guardians of the planet, they will contribute ancient wisdom and knowledge to inspire and give people the tools to take positive action.
 
1,500 tickets are now on sale for the inaugural family-friendly, alcohol-free gathering, which has been carefully curated to offer people a place in a community, to learn, reconnect with nature, and leave with hope for the future.
Medicine Festival Programme
 The Activation Hub is at the heart of the festival. Here, thought leaders will be leading talks, workshops and discussions on areas such as consciousness and spirituality, future technology, ancestral wisdom, neuroscience, philosophy, storytelling, activism, change-making, food, farming, community and the economy.
 
The experts include award-winning documentary maker Bruce Parry, writer, psychologist and mythologist Sharon Blackie, writer and journalist Graham Hancock, Helena Norberg Hodge, founder of Local Futures, and ecologist and activist Satish Kumar. More speakers are to be announced.
 
Joshua Dugdale, festival co-founder and Wasing Estate owner, explains why Medicine is needed now:
 
"We have created Medicine because, although we are at a critical point in history, we also see great promise and hope for the future. Now is the time to look beyond society's usual parameters, and discuss and explore how we can combine and provide pathways that will support the health of our planet and its inhabitants, while addressing the threats to global civilization we are seeing at the moment. 
 
"We have an amazing capacity to make things better by combining technologies and science with ancient wisdom and practices. We need to harness these to find solutions – or the 'medicine' – that our planet desperately needs."
 
Other Medicine activities include:
●        Live music by musicians ranging from the classically trained to the latest experimental artists, and DJs – names include James Monro, Sam Lee, Ayla Shafer and Laor
●        Spectacular performers, storytellers, spoken word, fooling, theatre and comedy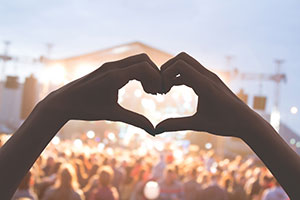 ●        Art including indigenous art, surrealism, modern contemporary painting, land art, sculpture and digital work
●        Street food market selling delicious organic vegetarian and vegan food
●        Wellbeing workshops including yoga, meditation, martial arts, nutrition, forest bathing, stand up paddleboarding, sound healing with Leo Cosendai, and breathwork with Rebecca Dennis
●        Healing Village offering massage modalities, Reiki, acupuncture, Watsu and reflexology
●        Morning raves, ecstatic dance and guided movement sessions
●        Specially curated ceremonies, sweat lodges, and women and men's circles
●        Phone-free zones
●        Woodland, lakes and parkland for walks and swimming
●        Cross-generational community activities
●        Kids' programme including woodland adventures, bushcraft, crafts, cooking, foraging, plant identification and astronomy
 
More details of the line-up and programme are to be announced.
 
Medicine's general manager and experienced festival producer, Jenna Ansell, says:
 
"Medicine is a celebratory experience of love, laughter, play, connection and inspiration. It is an opportunity for people to unplug from the modern world and be revived by spending time in nature.
 
"We've designed a pioneering festival for the UK. By fusing the joy of music and entertainment with inspiring thought, nourishing food, nature, celebration and creativity, people will return home feeling revived and part of an exciting new community, focused on shaping a positive future."
 
Tickets and accommodation
 
Tickets range from £45 for children, up to £235 per adult. Early bird tickets are on sale for £175. There are reduced price tickets for students and people on a low income. Local residents can buy tickets at the Early Bird rate. Purchase now at website.
Camping in a personal tent is free. Guests can also stay in the Boutique Camping area, in one of the luxury bedrooms on the event site or in a local B&B or hotel. Tickets can also be purchased for campervans and cars, although people are encouraged to car share and use public transport.
 
The location
 
Set in the Berkshire countryside, Wasing Estate covers several thousand acres of farmland, and features parkland, woodland and lakes.
 
Medicine is easy to get to – located less than an hour's drive from London, 40 minutes from Heathrow airport, and 5 minutes by taxi from the nearest train stations (Midgham, Thatcham and Aldermaston).
 
Further details are available on the festival website
 
For announcements and updates follow the festival on Instagram and Facebook.