Wigwam® Holidays – think heated cabins, great locations and a chance for you to create fabulous memories! The glamping accommodation provider has sites nationwide situated in beautiful locations: from a sun-kissed Cornish beach to the rippling edge of a mysterious, tranquil Scottish Loch, and anything in-between.
Our cabins are made in Scotland from sustainable timber and are fully insulated and heated. Each cabin also has a lockable door, comfy mattresses, Velux® windows and storage space as standard. Some cabins are also en-suite and include a kitchenette, dining area and some even have an outdoor hot tub too!
Wigwam® Cabins are spacious, providing a warm place to stay from three to five guests, depending on the cabin type.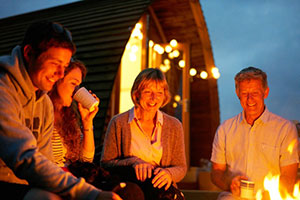 So why choose a Wigwam® Cabin for your glamping holiday?
Wigwam® Holidays has been making cabins since the early 1990s, and was one of the first glamping cabin companies in the UK.
Wigwam® Sites are found in incredible locations so as glampers can become Wigwamers, we welcome our guests to be part of an ever-growing family of fellow glamping fans. The high quality of cabin is the same across the network … the only thing that alters is the location. 
In short, Wigwam® Holidays offer great holidays in the great outdoors … a chance to kick back, relax at any time of year … a time to be yourself … a time to discover Wigwam® Holidays.
Question: 
Where are Wigwam® Cabins made?
A) England
B) Wales
C) Scotland
Winner receives a online glamping voucher to the value of £200. Terms, conditions and restriction apply.
Terms and Conditions:
·      The prize is strictly subject to availability and to the booking Terms, Conditions and Restrictions of Wigwam® Holidays.
·      The prize covers accommodation ONLY. Travel, fuel costs, food, bed linen and ANY additional costs are NOT included.
·      The prize is one £200 glamping voucher which can be used to book a Wigwam® Cabin online at sites which accept online bookings.
·      Strictly subject to availability, and is also subject to the booking Terms and Conditions of Wigwam® Holidays and Wigwam® Holiday site selected by the winner.
·      The Prize does not have any monetary value and is NON-TRANSFERABLE. 
·      The Prize Winner is also subject to the Terms & Conditions of this publication/website.
·      Once booked the holiday cannot be transferred to another Wigwam® Booking or Site, nor can it be transferred to any other type of holiday accommodation or to another customer.
·      Prize is available to those aged over 21 years only.
·      If the winner has a dog, please check if the dog is permitted onsite. An extra woof tariff could apply.
·      Once a booking has been confirmed, no changes are permitted. If a booking is cancelled, no alternative dates can be arranged. No compensation and/or refund will be provided in these circumstances. 
·      The photos for this competition are used for illustrative purposes only and the type of Wigwam® Cabin, it's facilities and site location varies.
The draw is not open to persons employed or contracted to Wigwam® Holidays and their agents, this publications' employees or any of their agents. Additional terms, conditions and restrictions apply.